What Is Hypersensitivity Pneumonitis? Hypersensitivity pneumonitis also termed as allergic alveolitis is caused due to alveolar inflammation in the lungs due to extreme sensitivity as...
Severe acute respiratory syndrome is a disorder of the respiratory system, which is caused by a virus called SARS coronavirus. The outbreak of this...
Caplan's syndrome is also known as silicoarthritis, rheumatoid lung silicosis and rheumatoid pneumoconiosis. Caplan's syndrome is a condition which occurs due to scarring of the...
What is Bronchopulmonary Dysplasia? Bronchopulmonary Dysplasia is a pathological condition seen in infants who are born premature with underdeveloped lungs. When these infants are treated...
What is Byssinosis? Byssinosis which is also called by the names of Brown Lung Disease or Monday Fever, is a form of lung disease which...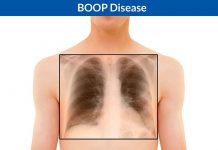 What is Bronchiolitis Obliterans Organizing Pneumonia? Bronchiolitis Obliterans Organizing Pneumonia, also termed as BOOP disease, is a type of pneumonia which is noninfectious. It is...
What is Pulmonary Infarction or Lung Infarction? Death of one or more segments of the lung tissue due to deficiency in blood supply is known...