To understand the relation between green tea and irritable bowel syndrome and to confirm if green tea is useful for patients suffering from irritable...
What to Take for Irritable Bowel Syndrome? As the causes of IBS i.e., irritable bowel syndrome is not known, so doctors focus on treating the...
IBS & Diarrhea: IBS i.e. Irritable Bowel Syndrome is disorder where patients find it difficult to control their bowel movements. Further, irritable bowel syndrome that...
When you are suffering from IBS (Irritable Bowel Syndrome), you might be facing symptoms that can be totally unrelated from irritable bowel syndrome. One...
Is Irritable Bowel Syndrome Dangerous? Irritable bowel syndrome has become a wide spread illness. If left untreated or not treated properly either by the doctor...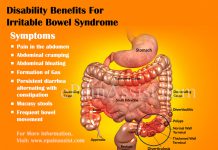 Irritable Bowel Syndrome or IBS is a pathological condition affecting the colon or the large intestine. IBS is quite a common disease condition and...
Irritable Bowel Syndrome (IBS) is one of common disorders affecting everyone. It is a chronic gastrointestinal disorder affecting the large intestine (colon). There is...