How Your Skin Ages In Your 30s?
You can find a lot of anti-aging creams and beauty products in the market. However, they may be effective or may not be. Following some of the best anti-aging skincare for 30s would help you look stunning even with your growing age. However, before we talk about some of the anti-aging skincare, let us know how your skin ages in your 30s.
As your skin ages, it goes through several stages and this means that your skincare also requires to vary over time. The way your skin is aging in your 30s is totally different from the way it will age in 40s and 50s.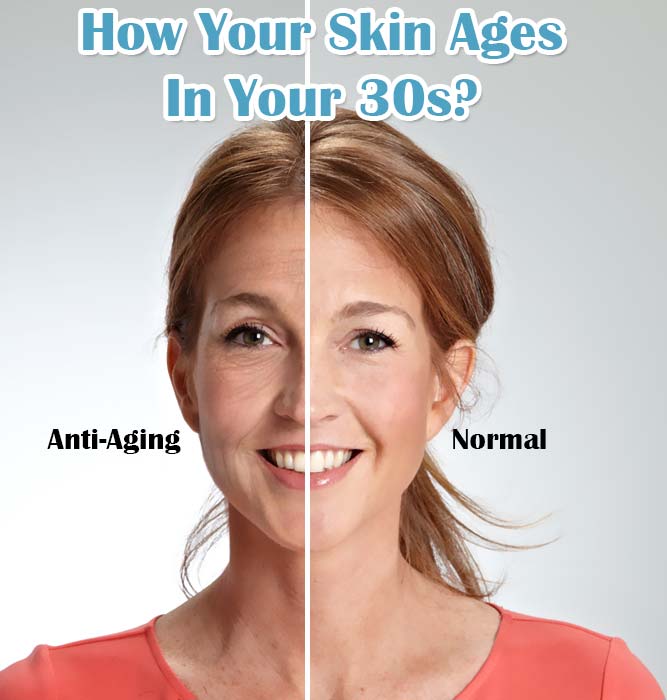 Based on genetics and lifestyle, some individuals may start seeing the first signs of aging in early 30s; while some might have already noticed the aging signs in their 20s. However, there are a number of common changes to the skin that would require your special attention.
Following are some of the common changes to the skin in your 30s:
Dull Skin-
This is in fact one of the biggest changes you will see during your 30s. The skin would lose brightness and freshness. This is because of the changes in the skin renewal process. As you age, the ability of the skin to renew slows down, and this leads to dead skin cells which are able to build-up on the surface of the skin.
Pigmentation-
One more major concern during your 30s is pigmentation and development of brown spots. These are mostly because of the exposure to the sun rays. Tanning in your teens can be the biggest cause of pigmentation during 30s.
Fine Lines Around The Eyes-
Most women, experience the first signs of aging around their eyes, as the fine lines around the eyes. This is because; this is where your skin is the most delicate and thin and is thus more prone to damage. Lines and wrinkles can be caused by dehydration, sun exposure or just your genes.
Loss of Skin Elasticity-
Skin damage and age can reduce the production of collagen in the skin and this can begin to show in your 30s, with your skin feeling a little slacker and less taut.
Anti-aging Skin Care For 30s:
Choose Lighter Lotions:

It is essential for you to choose lighter lotions or serums when you are in your 30s. This is because thicker aging creams are generally not required and may make the skin more prone to breakouts. Using a light weight, non-pore-blocking or non-comedogenic product having great UV protection and anti-ageing properties is actually a great way to start.

Start Using Oils:

As you enter your 30s, your skin loses its softness, springiness and hydration. These symptoms require good face oil, which when massaged in will also help with any puffiness (one more common affliction over 29 years of age). You need to try facial oils rich in fatty acids, oils that are non-greasy and that suits all the skin types; at least 3 times in a week.

Use Topical Antioxidants:

One more skincare tip for people in 30s is to use topical antioxidants, vitamin C and vitamin E. Using this each morning would help in protecting your skin from free radicals and oxidative stress, which is one of the major contributors to premature skin ageing. It must be mentioned that free radicals are generated by the sun exposure, smoking, pollution etc; however, even your own cell metabolism creates free radicals.

Try A Retinol:

Retinol is a topical vitamin A derivative which is the gold standard of topical anti-aging care. Such derivatives help optimize skin turnover and collagen production. This is because from 30s; the cell turnover slows down and the production of collagen declines. So, using a topical vitamin A derivative like retinol or retinaldehyde would great help.

Start Using A Fruit Peel:

It is true that our skin starts getting and looking duller in our 30s. So, you should try to add enzymatic skin peels where possible in to your regular routine, which will actually slough away the often graying of the top layer of the skin. As the cellular renewal process begins to slow down, you can try pineapple enzyme, mushroom peels.

Avoid Sugar:

It is also essential for you to have a check on your diet. You need to balance your diet well, consume more of greens like vegetables and fruits and reduce taking sugars and caffeine. Sugars actually increase the effects of aging and they can also worsen the skin condition such as generate acne, rosacea and pimples. Sugar activates inflammation and binds to the collagen, thus making the skin rough.

Use A Sunscreen:

It is very much essential to use broad spectrum sunscreen every day, so as to protect your skin against harmful UVA and UVB rays. This should be done even if you are not staying outside much.

Cleanse Your Skin Twice Daily:

One more anti-aging skincare tip that you need to follow in 30s is cleansing the skin, at least two times regularly. Cleansing effectively reduces the dead skin cells on the surface and makes the skin appear less dull and fresher. So, it can be said that a cleansed skin is the ideal base for anti-aging treatments.

Switch To Anti-aging Products:

If you have not already, then switch to the anti-aging products and give your skin the regular boost it requires fighting the signs of aging. May be the cleanser, the serum or the moisturizer; try using the anti-aging products for your skin after you crossed your 30s.

Maintain A Healthy Lifestyle:

It is not only about the products you make use of, but also the lifestyle you choose for self that decides how you or your skin looks or feels at your 30s. If you spend a night guzzling vino while puffing on cigarettes then the effects are bound to show up on your skin. It is time to cut down smoking and drinking and maintaining a healthy lifestyle, not only for a youthful and healthy looking skin, but also for the overall health.

Massage Your Tensions Away:

Massage is the key to remove physical stress from the muscle tissue and detox the skin cells as well. Massaging every morning also adds vitality and radiance to the muscles and the skin. So, you can count on this as well, as a skincare tip for your 30s.

Have An Appointment With Your Dermatologist:

It is very much essential for you to note that you need to schedule an appointment with your dermatologist, so as to get the lowdown on what is going on with your skin in your 30s. You can know if your skin requires a good peel or should you get regular facials etc. Your dermatologist will aid you to assess what your skin requires so as to keep it in the best possible condition, even at your 30s.
Conclusion:
"Great Skin Does Not Happen By Chance! It Happens With Appointment." Have a fair appointment with self in treating your skin well, in maintaining a healthy lifestyle and in having an appointment with your dermatologist and in following the healthy skincare tips so as to maintain a great skin even at your 30s. "You are beautiful! Let the beauty stay young!"