Nasopharyngeal cancer refers to a disease, where malignant cancer cells formed within the nasopharynx tissues. As a type of neck and head cancer, it commences within the squamous cells lining the patient's nasopharynx.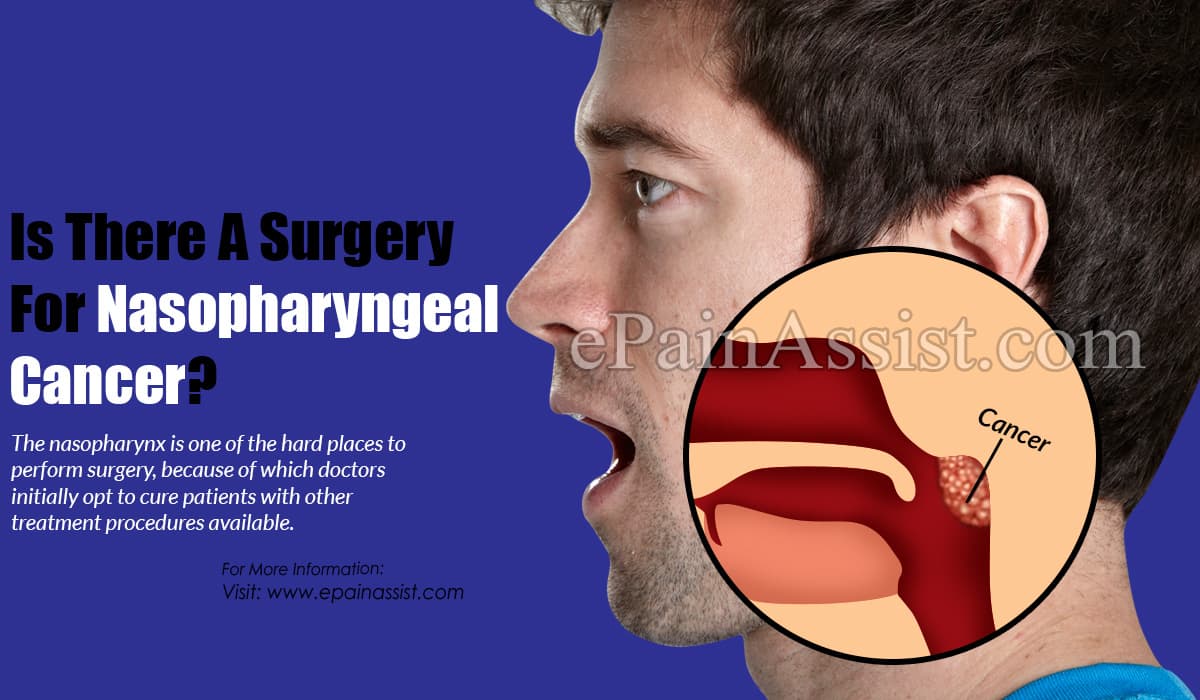 Is There A Surgery For Nasopharyngeal Cancer?
The nasopharynx is one of the hard places to perform surgery, because of which doctors initially opt to cure patients with other treatment procedures available. However, if the condition of a nasopharyngeal cancer patient does not improve with other treatment procedures, doctors have to perform surgery for the removal of the tumor and surrounding lymph nodes present in the neck of nasopharyngeal cancer patients. Accordingly-
Surgical Procedure To Remove Nasopharyngeal Tumors
With the availability of various innovative endoscopic surgical techniques, doctors may easily use a flexible type of fiber-optic scopes and thin yet long surgical devices to remove few of the nasopharyngeal tumors completely. Furthermore, doctors have to perform the mentioned complex procedures only in specialized centers.
The positive aspect, in this case, is that surgery involves a few key benefits as compared to other available treatments, including the treatment of radiation therapy. For instance, surgery allows doctors to have a close look at the nasopharyngeal tumor and the surrounding tissues to make sure that cancer does not leave behind.(1)
Surgical Procedure For The Removal Of Lymph Nodes
Nasopharynx cancers may sometimes spread to the patient's lymph nodes present in their neck. These types of cancers often respond in a good manner to radiation therapy and/or chemotherapy treatment. However, if some of the cancers remain even after either or both of the mentioned therapy treatments, doctors recommend undergoing neck dissection surgery to remove the respective lymph nodes.(1)
Types Of Neck Dissection Surgery In Detail
Until now, doctors have performed several types or forms of neck dissection surgery. These differ in the exact amount of removed tissues from the neck. Other than this, doctors may remove the lymph nodes from both sides of a patient's neck depending primarily on the specific location of the formed tumor.
Partial Or Selective Dissection. In the case of selective or partial neck dissection, doctors remove only those lymph nodes, which remain close to the formed tumors and are likely to spread the problem of cancer.
Modified Dissection. Modified type of radical neck dissection method involves the removal of lymph nodes present on a specific side of one's neck i.e. between the collarbone and jawbones, along with few of the nerve and muscular tissues. On the other side, doctors often save the main nerve connecting to the shoulder's muscle.
Comprehensive Or Radical Dissection. Comprehensive or radical neck dissection removes almost every lymph node on a specific side and even more veins, nerves and muscles.(1)
Signs And Symptoms Of Nasopharyngeal Cancer
Even though signs and symptoms in the case of nasopharyngeal cancer depends on the underlying conditions, you should immediately consult your doctor if you notice anything among the following-
Formation of a lump in the neck or nose
A sore in one's throat
Difficulty in speaking or breathing
Nose bleeding
Difficulty in hearing
Ringing or pain in your ears
Also Read:
×
Suggestions to Improve the Article
This article contains incorrect information.
This article does not have the information I am looking for.
I Have a Medical Question.

×
How Did This Article Help?
This Article Did Change My Life!
I Have a Medical Question.