Hypothyroidism which occurs when thyroid hormones are produced in a very low quantity by thyroid gland while in hyperthyroidism the hormonal levels are increased significantly as compared to normal. The thyroid is situated in the front region of the neck. Therefore, an individual suffering from any form of thyroid disease should regularly get his thyroid hormones checked clinically. The complications of thyroid illness prove fatal as T3 and T4 are responsible for proper metabolism in the body and also have a role in storage and usage of energy.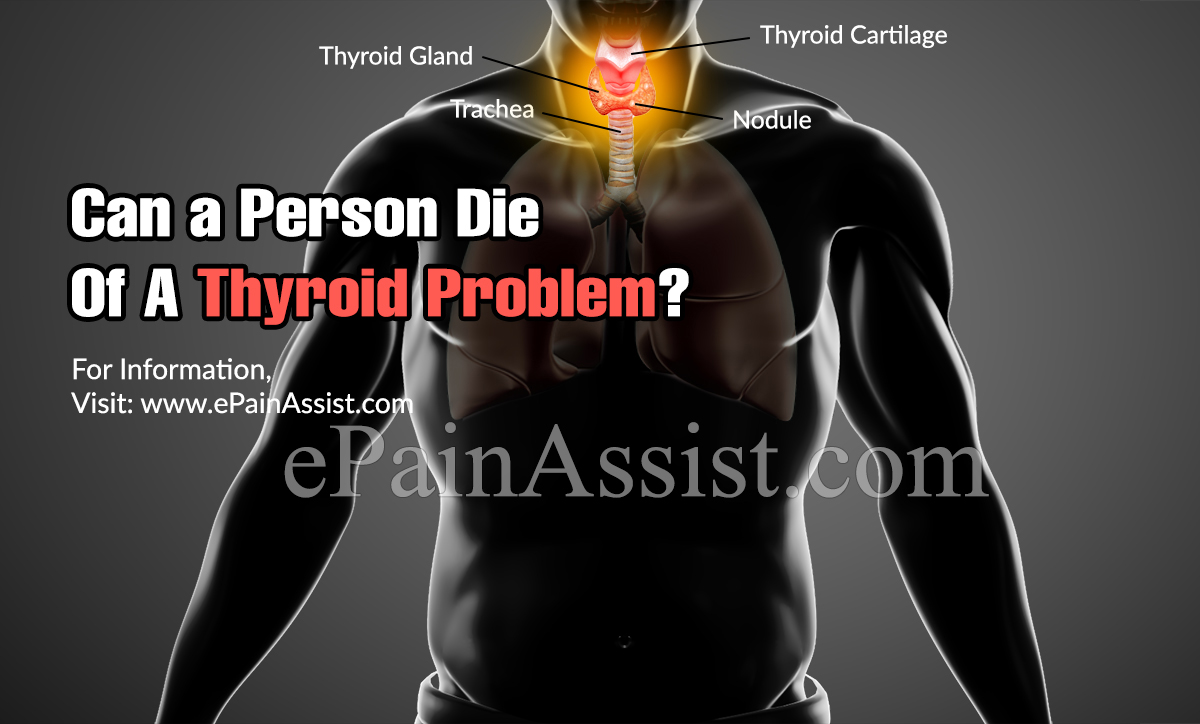 Can a Person Die Of a Thyroid Problem?
Hypothyroidism leads to death only in certain cases when adequate treatment has not been taken. If a person who has been diagnosed with hypothyroidism is taking proper medications as prescribed by an endocrinologist will only suffer from mild to moderate symptoms when the thyroid levels decrease in blood. The symptoms seen in hypothyroidism are:
Increase in weight
Lethargy
Cold Temperature sensitivity
Dry cold skin
Sleep disorders
Concentrating is difficult
Weakness in the muscles
Pulse is low
Morning nausea
Women suffer from irregular menstrual cycle
These are some of the general symptoms that are seen in cases of hypothyroidism, these tend to complicate when treatment for hypothyroidism is not taken. The main complications are of goiter (enlarged thyroid gland), cardiovascular diseases and myxedema, myxedema is the most severe form of hypothyroidism. It is rare, but a life-threatening condition.
In cases where females who are already diagnosed with hypothyroidism become pregnant, run the risk for having children born with birth defects. Thyroid hormones play an essential role in development of the brain.
Heart Issues are common even in patients with mild to moderate hypothyroidism. This is due to the fact that less quantity of thyroid hormones leads to more amount of bad cholesterol or better known LDL.
In myxedema the metabolism of the body is at an extremely low level. This condition may even lead to coma and then eventually to death.
Treatment of Hypothyroidism
The management of hypothyroidism involves thyroid hormone replacement. The therapy is very efficacious with good results. Before starting the hormonal therapy proper testing of thyroid levels are done.
Hyperthyroidism and Mortality
Hyperthyroidism is the condition in which the thyroid gland is secreting more than normal levels of thyroid hormones. The main symptoms seen in patients of hyperthyroidism are because of the increase in the metabolism of the body. Few symptoms are mentioned below:-
Fast and Rapid Pulse which usually in the region of 85+
Tremors in the hand are commonly seen
Heartbeats are rapid while they may even be irregular at times
Dryness of the skin
Decrease in Weight
Sleep is disturbed
Increased frequency of bladder and bowel
Twitch in the face
Hair is thin and grey
Restlessness
These people begin any activity quite enthusiastically but tire easily. This is the typical history seen in patients.
Intolerance to high temperature
There are numerous causes due to which hyperthyroidism occurs the common ones are Grave's disease, Multi-nodular goiter and excessive consumption of iodine supplements.
Grave's Disease: The body produces auto-immunoglobulin (TSI), which stimulates the thyroid gland to secrete the hormones.
Toxic Nodular/Multi-Nodular Goiter – There is formation of nodules in the gland which is responsible for increase in the secretion of thyroid hormones.
The condition is generally not that fatal except in the cases of Thyroid Storm, which is the ultimate complication of hyperthyroidism. In this condition, the patient's blood pressure, heart rate and body temperature are very high.
Treatment of Hyperthyroidism
Anti-thyroid drugs are given which interfere with the production of thyroid hormones. In elderly cases Radioactive Iodine is used or the gland is surgically excised.
To conclude, a person can only die from a thyroid problem if one does not take proper medications for the thyroid anomalies. The rarest and the most dangerous complication of hypothyroidism is Myxedema while in cases of hyperthyroidism Thyroid Storm may cause mortality. Proper management of the condition can be done by drug therapies and hormone replacement.
Also Read: