Fordyce spots on penis, also known as sebaceous prominence on penis or fordyce granules on penis refer to the various small size of raised, yellow-white, pale red or skin color spots or bumps, which usually appear on the penis shaft and scrotum of males or vermilion border present on the lips. Even they may be present on the foreskin or the upper skin of the male's penis or Tyson glands.
Key Facts about Fordyce Spots on Penis
Fordyce spots on penis are usually are seen in small and pale color, such as pinkish, yellowish or skin color spots and/or bumps ranging between 1mm to 3mm diameter.
These fordyce spots on penis are visible in penis shaft and scrotum in males and Labia in females.
Fordyce spots on penis may appear in either purple or red colored papules, in crops or as a solitary lesion ranging between 50 and 100.
Fordyce spots on penis formed in the shaft or glans of male penis do not cause any itching and are of painless in nature.
Fordyce spots on penis are simply the dilated vessels of blood found in abnormal way and remain covered with thick skin and sometimes, they cause bleeding at the time of or after an intercourse session.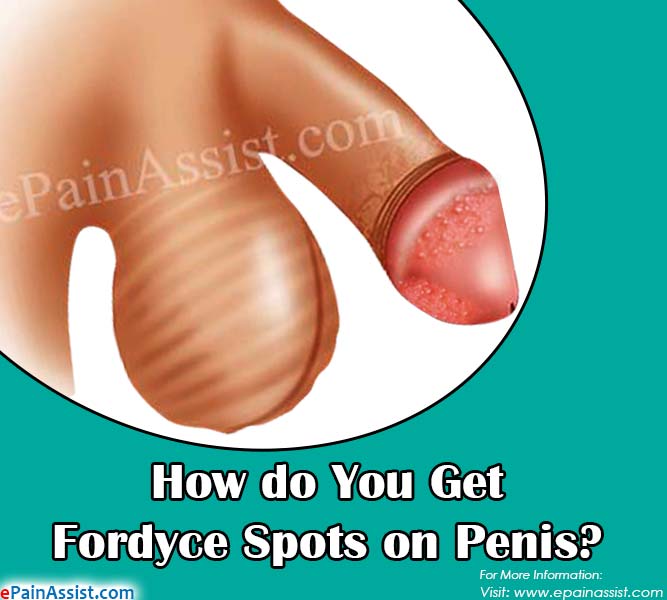 How do You Get Fordyce Spots on Penis?
Fordyce spots on penis are the types of sebaceous glands available in the enlarged form. The main function of these glands is to produce as well as release Sebum, natural oil within the hair follicle for lubrication of the skin. In case of Fordyce spots, hair follicles remain absent, which leads to blockage of the Sebum and rising of bumps.
Regular sebaceous glands produce the oily substance of Sebum inside the hair follicles, while such spots are available without any hair follicle positioned in an abnormal way by visibly protruding via one's skin. Despite bumps or spots often take place by natural means during birth, they usually display first time whenever a person reaches the puberty phase.
These conditions take place naturally and do not have any relationship with HIV, STD i.e. Sexually Transmitted Disease or illness in humans. Even they do not take place because of any virus are of contagious, harmless and involve only the cosmetic concern.
Ways to Get Rid Of Fordyce Spots in Penis
Fordyce spots on penis do not require any treatment. However, if a person wants to remove such spots because of cosmetic reasons, you may easily find remedies for it by discussing with your doctor.
Micro-Punch Surgery for Fordyce Spots on Penis

Doctors may use the method of micro-punch surgery to remove fordyce spots on penis in a rapid and in an effective way from your penile area. Before this, they apply a suitable local anesthesia to avoid or reduce the level of your pain.

After this, doctors use a pen type small device that helps in punching of the skin and removal of various unwanted tissues on the penis. The key benefit associated with this method is that it never leaves scars and does not leave any sign related to the recurring of spots at least after a year of your surgery.

Laser Treatment for Fordyce Spots on Penis

Doctors usually opt for CO2 (Carbon Dioxide) laser treatments for zapping of the fordyce spots on penis. However, laser treatment may sometimes leave scars. Alternatively, you may try out for pulsed dye laser treatment, with which you will end up with relatively less scars. Both types of laser treatments apply a concentrated light beam of different wavelengths.

Topical Treatment for Fordyce Spots on Penis

Topical treatments to remove or shrin fordyce spots on penis involve topical tretinoin, such as Retin-A and Avita, bichloracetic acid and oral isotretinoin in the form of Claravis or Sotret. In this case, doctors may suggest for combination of topical treatments with the laser treatments. However, topical treatments may lead to side effects in the form of a burning sensation and an inflammation.
Also Read: