How Long Does It Take For Levitra to Take Effect?
One of the most asked questions about Levitra is that "how long does it take for Levitra to take effect?" the answer is that the effects of Levitra will be noticed within a quarter an hour after administration. But this can go up to 1 hour. On average the effects of Levitra can last between 4 and 5 hours. However, it can also take 1 to 2 days in some men; this can only take place at minimal sexual arousal. Levitra can also cause serious side effects just like viagra, but it all relies on the quantity of Levitra taken. It is very important that you use Levitra in small portions possible. The lesser you use Levitra, the less side effects you will experience.
You should every time take Levitra one hour before the planned sexual activity if need be. It must be noted that the highest dose that you can take in one day is 20 milligrams similar to the recommended 1 pill per day. Drink enough water when taking Levitra pill. This drug is well known for being resistant to food; it is therefore safe taking it during meals. However, fatty foods will reduce the effectiveness and efficacy of the pill; you must then avoid such like foods when using this medicine. You can purchase Levitra at any amount from 2.5mg to 20mg. But it is cheap to buy it whole then break it by yourself.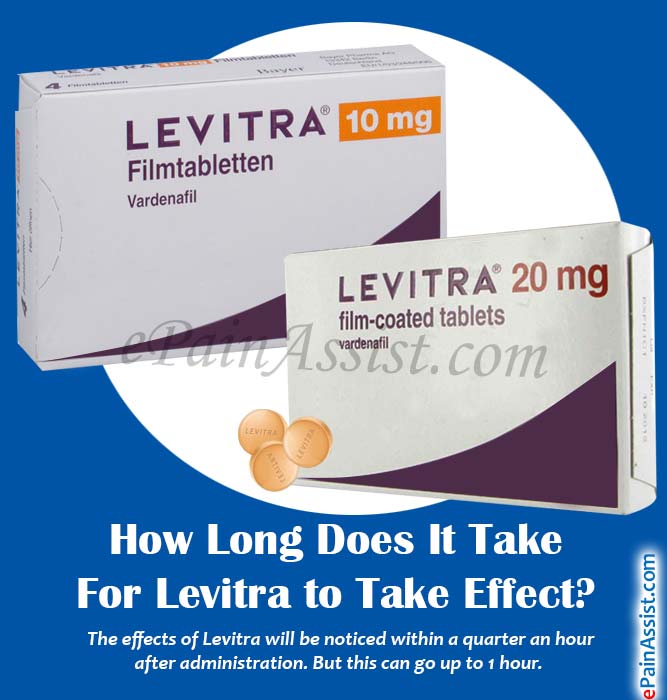 How Effective is Levitra
Levitra effectively works by relaxing the muscles in the walls of the blood vessels to promote flowing of blood to certain areas of the body such as penis. Levitra is utilized in treating impotency (Erectile Dysfunction)
Levitra will be effective throughout the sexual activity after taking it and even longer as long as there is arousal. Read for more information.
A 20 milligrams pill of Levitra is consumed in four portions of 2.5 mg each. You can begin with 2.5 mg and add more later if you don't feel the effects. The effect of this medicine is the same irrespective of the quantity taken. Men of 65 years and more are advised to take lower dose compared to those younger than them. The reason here is that people with this age bracket of 65 years and above absorbs Levitra into their systems slowly. Unlike other drugs, Levitra must be taken when you have planned to have sex, and must be taken 1 hour before.
Intake of Levitra together with certain medicines can result to fatal low blood pressure. Don't take Levitra if you are using Adempas (Vardenafil) or nitrate medicine like nitroglycerin.
What is the Recommended Dosage of Levitra?
General Adult Dose of Levitra for Treating Erectile Dysfunction:
First Dose: take 10mg of Levitra once per day orally or as needed, 60minutes prior to sexual intercourse. You can increase the dose to 20mg or lower it to 5mg depending with tolerability and efficacy.
Maximum Dose of Levitra is 20mg per day.
For patients using stable alpha blocker therapy:
Initial dosage: take 5mg of Levitra once daily. Administer orally.
Note: Sexual arousal is needed for a reaction to treatment; the period between dosing must be managed when using Lavitra cocurrently with Alpha blocker medications.
Geriatric Dose of Levitra for Treating Erectile Dysfunction:
For men of 65 years or more:
First dose: take 5mg of Levitra once per day orally, or as required. Take it 1 hour prior to sexual activity.
Note: Sexual arousal is needed for a reaction to treatment.
What are the Side Effects of Levitra?
Common side effects of Levitra include:
Blocked nose is a common side effect of levitra.
Tingling feeling or flashing redness or warmth
Stomach upsets
Seek immediate medical assistance if you suffer allergic reactions to Levitra: such as breathing problem, hives and swelling of your throat, tongue, lips and face.
Stop taking Levitra and get quick medical assistance when you get abrupt loss of sight.
If you feel dizzy, numbness, pain, nausea or slight stinging in your neck, arms, chest or jaw when having sex, stop it at once and contact your doctor immediately. You may be having serious side effects.
Stop taking Levitra and contact your physician immediately when you have:
Changes in vision are a severe side effect of levitra.
Abrupt loss of hearing or buzzing in your ears
Symptoms of heart attack like chest pressure and pain, pain scattering to your shoulder and jaws or nausea and sweating.
Uneven heartbeat
Bulging of your ankles, feet or hands
Short breaths
Feeling as if you can collapse or light headed
A painful penis erection that persists for four hours or more is also a severe side effect of levitra.
Convulsions or seizure.
Also Read: