Panic Disorder and Disability When talking about Disability Benefits due to Panic Disorders or Panic Attacks, across the United States there are many petitions filed...
Gout is a pathological condition with characteristic features of extremely severe bouts of pain and tenderness in the joints. The pain can be so...
Disc Bulge is quite a common finding in people. It is a medical condition in which the disc protrudes outward and compresses the nerve...
The following article gives comprehensive information as to whether Sickle Cell Disease qualifies for Social Security Disability Benefits, what are the chances of a...
Most of the people have neck pain at one point or the other, especially people who spend long hours sitting in front of the...
Coronary Artery Disease is one of the most common illnesses among elderly people. Coronary artery supplies oxygenated blood and nourishment to heart muscles and...
Back Pain is by far the most agonizing pain that an individual can have and is also one of the leading causes for people...
Heart Failure is also known as congestive heart failure. Heart pumps 70 to 80 cc of blood with each heartbeats. Five million Americans suffer...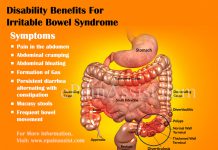 Irritable Bowel Syndrome or IBS is a pathological condition affecting the colon or the large intestine. IBS is quite a common disease condition and...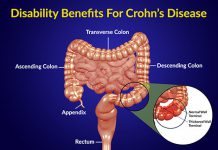 The following article will give comprehensive information about whether Crohn's Disease qualifies for disability benefits or not, how to win a SSD benefits due...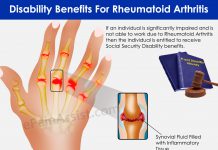 The following article will give comprehensive information about Rheumatoid Arthritis and Disability, how can an individual qualify for disability benefits due to Rheumatoid Arthritis...
About Lupus And Disability Lupus or Systemic Lupus Erythematosus is a chronic autoimmune condition in which the immune system of the body starts damaging its...
One famous quote goes like, "Anything in excess is opposed by nature!" Coming straight to the pressure on the wrist; Carpal Tunnel Syndrome can...