Blindness causes a severe psychological problem and affects the quality of life completely. Being legally blind not only poses physical challenges, it also can be financially burdensome. In western countries, some places have social security disability (SSD) benefits for legally blind people. According to social security administration, legally blind or visual impairment can be defined as best corrected visual acuity of 20/200 or worse in the better eye or a visual field limitation i.e. 20 degrees or less in the better eye that should last at least 12 months.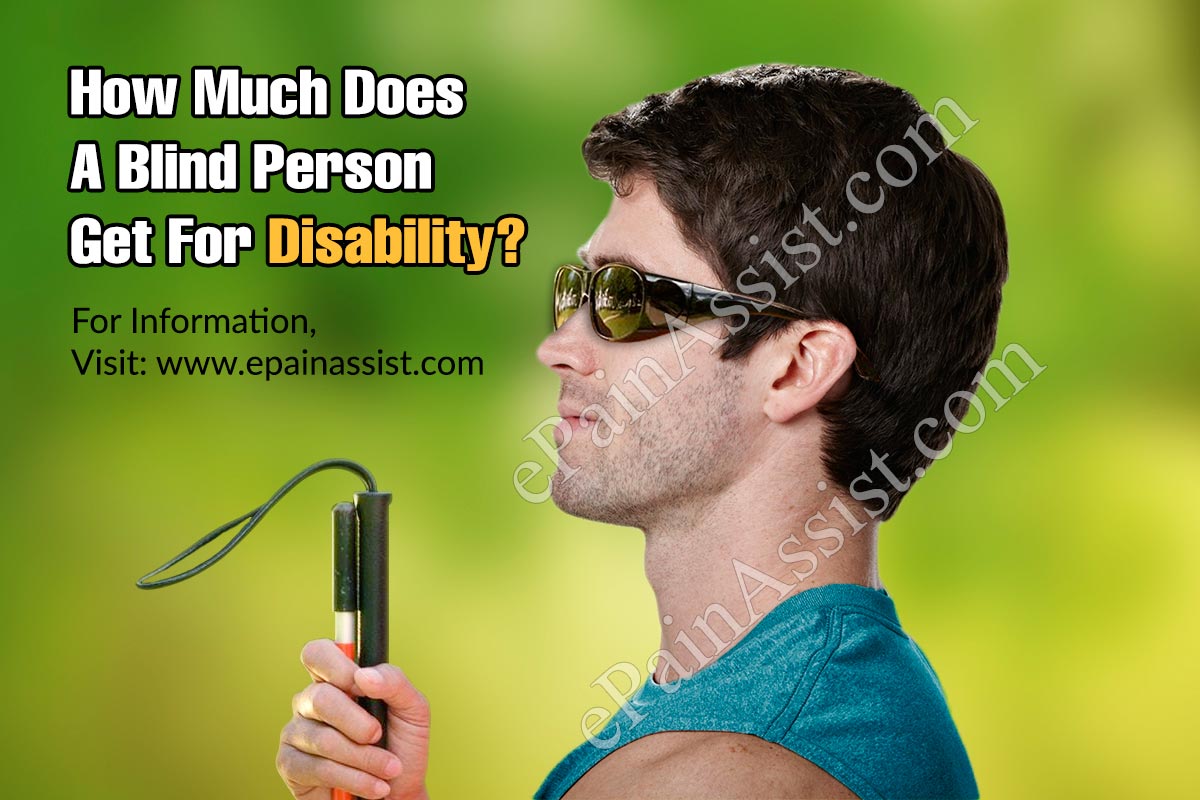 How Much Does A Blind Person Get For Disability?
To be a recipient of the SSD benefits, concern person should have worked in jobs that are covered by social security. SSD pay every month if the disability one fulfills the definition. They pay even if they person unable to work for a month or more than a year because of disability. It will continue until the person able to work again on a regular basis. In case if the person reaches retirement age, disability benefits automatically change to retirement benefits and the amount remains same.
Incentives also provided by the SSD which cover the healthcare, doctor visit, medications, nursing home care and also expenses for guide dogs but under specific conditions only. In case of younger qualification i.e. before 24 years of age, he/she can have 6 credits earned in the 3-year period ending when person disability starts. An individual between 24 and 31, the person can have credit for working half the time between age 21 and the time person become disabled. Individuals above 31 years of age must have work credits as shown in the table.
| Born after 1929, Became Disabled At Age | Number of Credits You Need |
| --- | --- |
| 31 through 42 | 20 |
| 43 | 21 |
| 44 | 22 |
| 45 | 23 |
| 46 | 24 |
| 47 | 25 |
| 48 | 26 |
| 49 | 27 |
| 50 | 28 |
| 51 | 29 |
| 52 | 30 |
| 53 | 31 |
| 54 | 32 |
| 55 | 33 |
| 56 | 34 |
| 57 | 35 |
| 58 | 36 |
| 59 | 37 |
| 60 | 38 |
| 61 | 39 |
| 62 or older | 40 |
It is very simple to meet the SSD benefits that one must have worked long enough or recently enough or under social security covered job. A work credit is given to person and each year one must earn up to four credits. The work credit depends on the wages or self-employed income of the person and it may change every year. Commonly, a disability person need 40 credits and 20 must be earned in the last 10 years ending with the year disabled.
The SSD department compromises two programs that people who are legally blind may qualify for social security disability insurance (SSDI) or supplemental security income (SSI). The SSDI program pays benefits to person and certain members of the family if the person has worked long enough and paid social security taxes. Whereas, the SSI program pays benefits based on financial need and is intended for low income of the individuals and families.
One can apply for SSD benefits either by online (electronic submission) or in person at the local SSD office. But when applying in person all medical documents are necessarily related to personal disability. The records must include first analyses of disability, history of hospitalizations, results of the various tests and a personal statement from the physicians about the limitations of disease. It includes employment history and financial records. The committee approves the applications in 3 to 6 months and the concerned person will receive the first fund with all information about the claim. If the committee denies, the person can apply in 60 days with a request for reconsideration. If reconsideration is approved, a disability hearing is scheduled to determine the eligibility.
If the patient finds the application process too complex and in cases of denied application, one can contact SSD department attorney or advocate for help. This process helps the applicant to process the submission without any error and make the person understand its denial.
The information about the legal blindness and visual impairments are enclosed in the blue book called "Special Senses and Speech" under the section 2.00. Loss of visual acuity, contraction of the visual field, and loss of visual efficiency are covered in the section under 2.0to 2.04.The complete guideline information about the description of disability is also available on the social security administration website (https://www.ssa.gov/disability/professionals/bluebook/2.00-SpecialSensesandSpeech-Adult.htm)
Also Read: