What is Dementia?
Dementia or memory loss is a group of symptoms and conditions distinguished by impairment of at least two prime functions of brain such as judgement and memory loss. Dementia is very common in people of 60 age or above that. Dementia condition is non-curable but treatment and medications might help. But the dark side of medication is some medicines and drugs even elevate the condition adversely.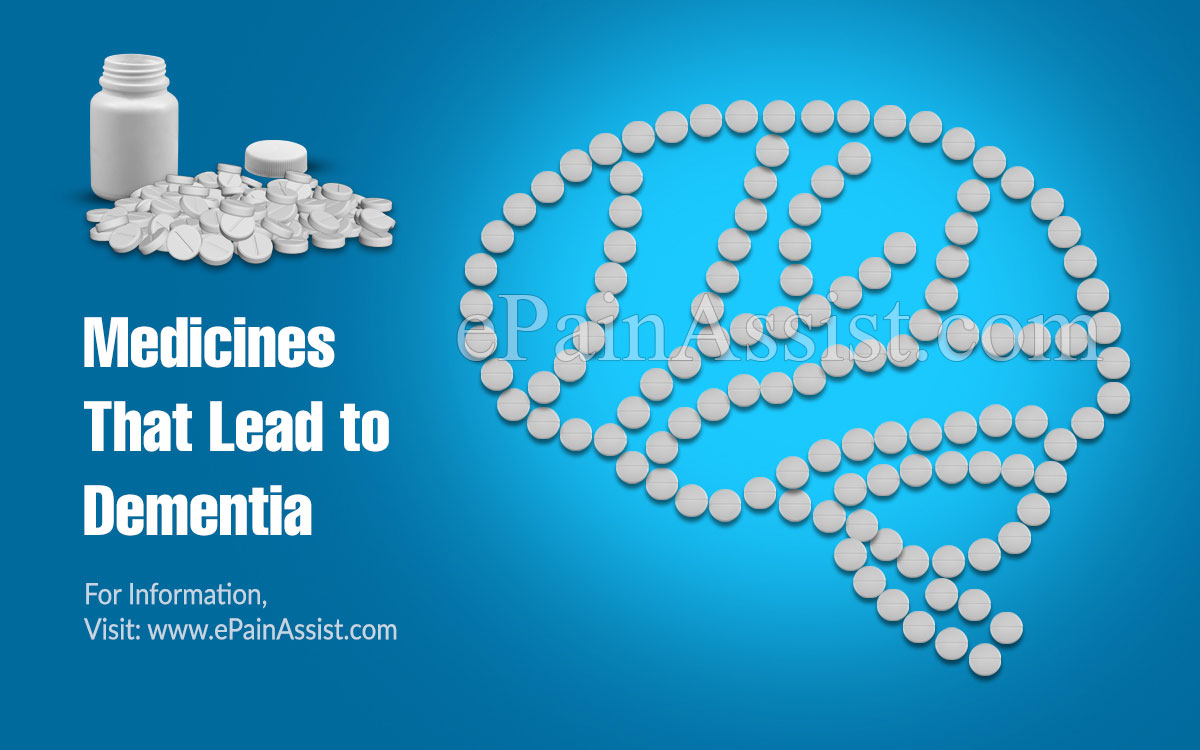 Early dementia or mild cognitive impairment (MCI) is the initial condition of dementia which is associated with memory language problems and cognitive functions. According to a study and theories presented by Global Council on Brain Health, people between ages 65-90 experience mild cognitive impairment as compared to acute dementia. Acute dementia and MCI (Mild Cognitive Impairment) exhibit some clear signs and symptoms and these symptoms can be diagnosed with proper examination and medical tests. However some medication, drugs, medicines and treatments worsen the condition of the patient suffering from dementia. Symptoms of dementia that are mostly seen in the patients are—
Frequent memory loss
Misplacing or losing things more often
Difficulty in communication, reasoning, planning and coordination
Disorientation and confusion
Paranoia and Agitation
Inappropriate behaviour.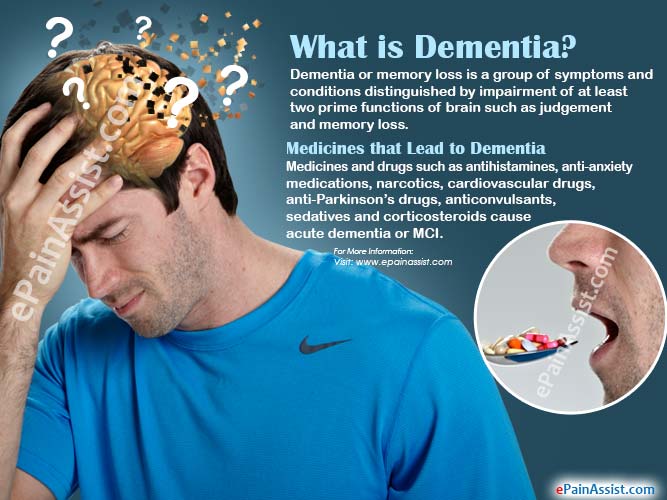 Medicines that Lead to Dementia
Medical science has been discovered for the betterment and treatment of people to save lives and improve health. But medicines can be dangerous too. The chemicals in the medicines might alleviate the health issues but may worsen your mental and physical health in several other ways. Talking about brain health, medicines are the prime suspect and culprits behind especially dementia and poor cognitive functions by deteriorating human's brain cells slowly but terribly.
Medicines and drugs such as antihistamines, anti-anxiety medications, narcotics, cardiovascular drugs, anti-Parkinson's drugs, anticonvulsants, sedatives and corticosteroids cause acute dementia or MCI.
Proton pump inhibitors (PPIs) are the kind of medicines that include Nexium, Prevacid, Prilosec usually prescribed for heartburns and acidity issues cause a higher risk of dementia. These medications lower the amount of acid produced in stomach and affect the cognitive functioning of brain damaging the cells associated for memory and reasoning.
Anticholinergic medications include non-prescription diphenhydramine and tricyclic antidepressants such as doxepin are responsible for increasing the risk of dementia in people by blocking the neurochemical also known as acetylcholine in brain and body. According to a study of Indiana University people who used this medication regularly or more often had smaller brain sizes with poor memory and cognitive functions. According to JAMA Neurology, people who were prescribed with these drugs and consumed them regularly suffered from short term memory loss, poor verbal reasoning, poor planning and coordination and difficulty in problem solving.
A class of antihistamine drugs and medicines such as chlorpheniramine and oxybutynin elevate the condition of early dementia to acute and serious cases of dementia exhibiting signs and symptoms like frequent memory loss, difficulty in communication, poor reasoning and coordination and abnormal behaviour.
Certain medicines called as opiates commonly known as narcotics are the strong effective pain killers that are also a reason behind increased dementia condition. These drugs affect directly the opioid receptors present in the brain causing serious cognitive changes in dementia condition and delirium.
A class of drugs and medicines called benzodiazepines are the tranquilizers and sleeping pills that help some people to sleep who are the insomniacs or sleep deprived. These anxiety killer drugs affect the CNS—Central Nervous System causing chronic cognitive impairment. Moreover, abrupt stopping of using these drugs can show similar effects as the withdrawal syndrome caused after quitting drinking and the common symptoms are confusion, hallucinations, difficulty in verbal communication, poor reasoning which are the signs of dementia.
Other drugs and medicines such as corticosteroids, anticonvulsants, flouroquinolone antibiotics and some H2 Receptor antagonists that are used for suppressing asthma conditions, sleeping and pain killing, infections and allergies and stomach issues respectively are the another variety of medications that give rise to dementia especially Alzheimer's and Parkinson's diseases.
Antidepressants and Dementia
A very strong and apparent relation between depression and dementia is the antidepressants medicines and drugs and the depression symptoms. A very common symptom associated with dementia and early dementia is depression and anxiety and the causes can be various such as drugs, medications, alcohol addiction, thyroid disease and depression itself. Using antidepressants for killing anxiety and depression can be risky too and cause memory loss, poor cognitive functioning, disorientation, inattentiveness, poor planning and reasoning, difficulty in coordination and organisation which are the clear symptoms of dementia.
Tricyclic antidepressants- TCAs are one of the familiar anti-depression drugs and medicines that cause severe cognitive impairment due to the presence of anticholinergic properties that are strongly associated with thinking, reasoning and cognitive functioning, the clear signs of dementia.
Another class of drugs and medicines known as Selective Serotonin Release Inhibitors (SSRIs) are the most common drugs prescribed by the doctors to lower the depression and anxiety conditions in patients that strongly affect cognitive functions in brain leading to cognitive impairment which is a very serious sign of dementia.
Other Reasons behind Dementia
Besides medications and drugs, dementia can also occur in people due to many other reasons. Dementia is a condition in which human mind or brain loses its capacity and reasoning power due to chemical imbalance and reactions. And these reactions and chemical imbalances can also happen when a person gives too much stress on his/her brain or mental health. The other reasons that cause dementia are vitamin B12 deficiency causing pernicious anaemia the initial group of symptoms seen in early dementia, severe depression and anxiety, several emotional complications, severe trauma or shock, brain tumors, thyroid disease, excess addiction of alcohol and degenerative diseases.
Bottom Line
Dementia occurs primarily due to overdoses of medicines and can be worse if medications are taken on a regular basis. It is recommended to consult with your doctor before having those medicines especially the above mentioned group of drugs such as anti-depressants, anticonvulsants, antihistamines, narcotics and sedatives because these drugs directly affect the brain cells and tissues adversely exhibiting the clear symptoms of dementia. It is wise to try natural and herbal medications rather chemical loaded drugs and when it is depression find other suitable and non harmful ways to get out of it.
Also Read: