Portal vein thrombosis is the process of narrowing of the portal vein. It may result in a blood clot in the blood vessel that brings 75% of the blood to the liver from the intestines. It is a common problem in patients with cirrhosis, mostly in individuals with the advanced liver disease. Most of the people do not show any symptoms but in some people, fluid accumulates in the abdomen resulting in enlarging of the spleen. Sever bleeding encounters and immediate medical care is essential. It involves anti-coagulation drugs to dissolve the clot and to prevent the enlargement of abdomen or recurrence.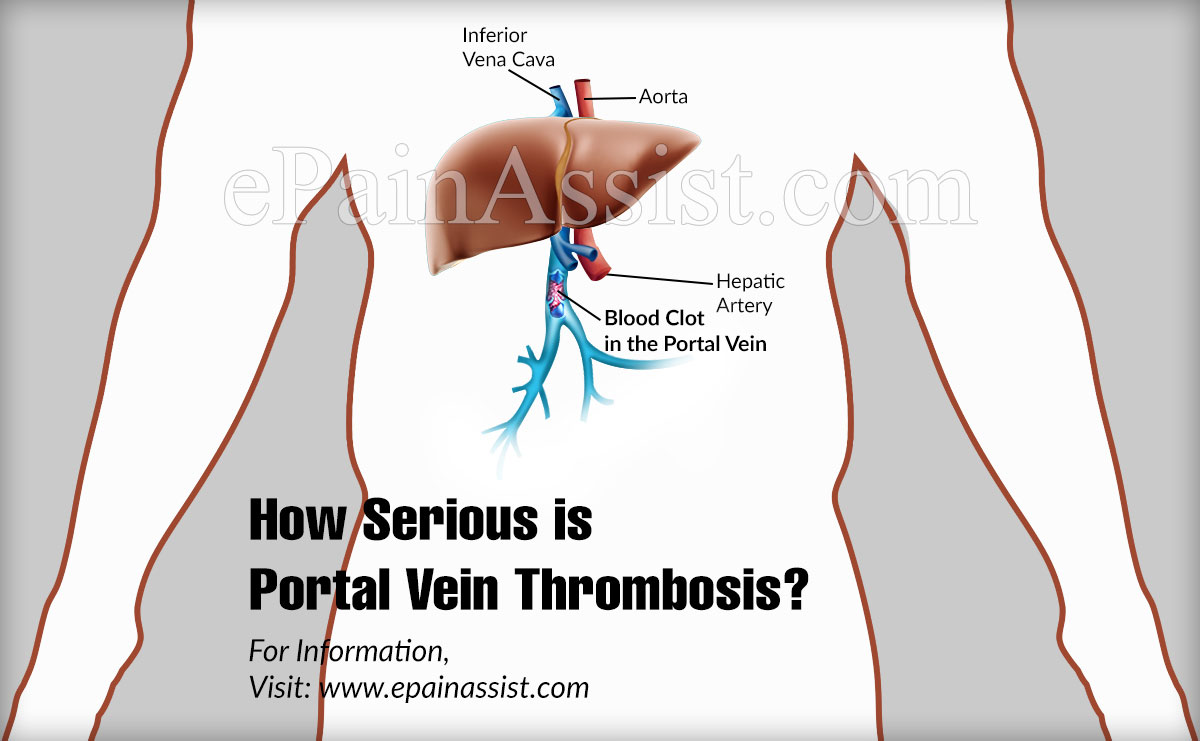 How Serious is Portal Vein Thrombosis?
Portal hypertension, a condition of increased blood pressure occurs because of a blood clot which causes dilated and twisted varicose veins. It occurs in the esophagus called as esophageal varices and in the stomach called as gastric varices.
The secretion of fluid in the abdomen is not common, if occur, it may cause liver congestion which can lead to liver failure. The treatment involves administration of large amounts of fluids intravenously because of massive bleeding from ruptured varicose veins either occurs in the esophagus or stomach. If portal vein thrombosis progresses in people with cirrhosis, their state worsens and may cause mortality. It continues to be a complicated disease and difficult condition with significant morbidity and mortality.
Pathophysiology of Portal Vein Thrombosis
Acute portal vein thrombosis (PVT) is characterized by the new formation of occlusive thrombosis in the portal vein. This sign usually remains in silent or sometimes associated with pain. Pain intensity becomes more if the superior mesenteric vein is particularly involved. This acute PVT in superior mesenteric vein and mesenteric arches can cause intestinal ischemia, which is meant to be life-threatening infarction. This is seen rarely in patients with cirrhosis where the development of PVT is a slower process, allowing alternative venous drainage to be established. There is intense compensatory hepatic arterial vasodilatation occurs after acute occlusion of the portal vein. This stabilizes the liver function followed by formation of venous collaterals, which bypass the occluded segment, forming a "cavernoma" in 3 to 5 weeks.
There are many unknown pathophysiological aspects of portal vein thrombosis still exist today. Many unresolved subjects encountered in everyday practice remain to be addressed.
Complications of Portal Vein Thrombosis
Complications of portal vein thrombosis include variceal hemorrhage, intestinal ischemia, and portal biliopathy. Portal biliopathy is characterized by enlarged collateral veins on the surface of the common bile duct causing partial or complete bile duct obstruction. It has been reported that patients with cirrhosis and PVT are at an increased risk of variceal hemorrhage compared with cirrhotics without PVT and abdominal pain was less common in cirrhotic than non-cirrhotic patients.
Prevalence and Etiology of Portal Vein Thrombosis
The prevalence of portal vein thrombosis in patients with cirrhosis has been reported more frequently in recent years. Prevalence of portal vein thrombosis ranges from 0.7 to 1/100,000 in the general population. Inherited and acquired thrombophilic disorders, bacterial infection and sluggish portal flow may all play a role in the high prevalence of PVT in patients with cirrhosis. Some experts have demonstrated that elevated levels of factor VIII (a procoagulant driver) in combination with decreased levels of protein C (an anticoagulant driver), both of which are typically found in patients with cirrhosis.
A thrombophilic genotype, including factor V Leiden mutation, methylenetetrahydrofolate reductase mutation, and prothrombin, is associated with the formation of PVT. However, they may play a minor pathogenic role in the formation of portal vein thrombosis. Sclerotherapy is a procedure used to treat blood vessels or blood vessel malformations and also those of the lymphatic system. The role of sclerotherapy as a potential trigger for portal vein thrombosis is still debated in the scientific world.
Also Read: