Since a long time, almond oil has been extensively used for its tremendous health benefits and also as a beauty aid. Among all the benefits of almond oil, one of the major benefits is to the hair. Let us here know about the benefits of almond oil for hair and know how good it is for hair.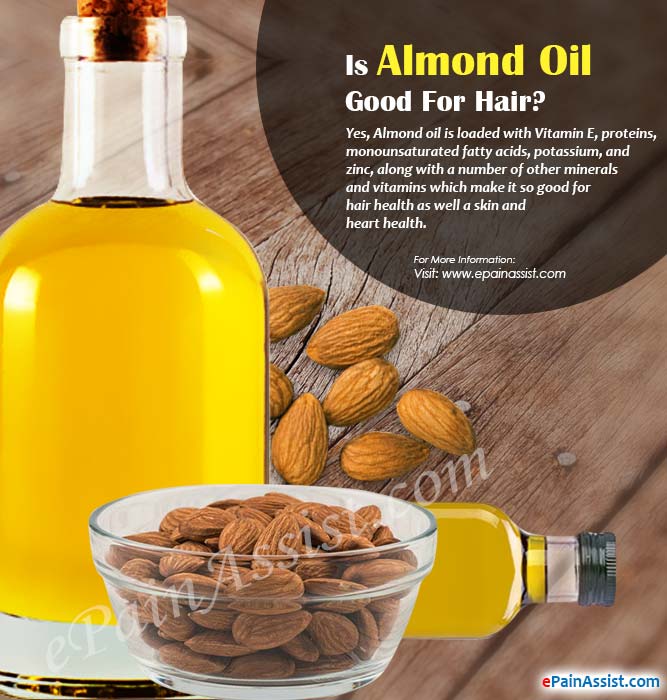 Is Almond Oil Good For Hair?
Yes, Almond oil is loaded with Vitamin E, proteins, monounsaturated fatty acids, potassium, and zinc, along with a number of other minerals and vitamins which make it so good for hair health as well as skin and heart health. The vitamins in almond oil enhance hair growth and strength, and gives it more shine. There are several other hair health benefits of almond oil which is discussed below.
Benefits of Almond Oil in Promoting Long and Healthy Hair:

It is very much known that by using almond oil on regular basis, you can help your hair improve its sheen and texture. Almond oil being loaded with magnesium, prevents hair fall to a greater extent. It is thus used in a lot of hair care products.

What you need to do is apply almond oil 1 or 2 times in a week so as to moisturize your scalp. For best results, make sure you massage your scalp with almond oil, soak a towel in hot water and then wrap it around your head. Doing this would aid you in reducing hair fall and also enhance the quality of hair.

Almond Oil Helps You Get Rid of Split Ends:

Unhealthy hair is obviously not a good sign. However, pollution and dirt and your busy schedule make it worse. Massaging your hair and scalp regularly with almond oil can prevent split ends too.

You can mix almond, olive and castor oil in equal proportions and massage your hair with this at least two times in a week and feel the difference. Though all these oil help in promoting hair growth, almond oil specifically contains vitamins, antioxidants and essential minerals that restore and rejuvenates the hair follicles.

Almond Oil Helps Get Rid of Dandruff:

If dandruff is worrying or irritating you then it is time for you to go for a warm almond oil head massage. Almond oil effectively aids in curing dandruff by removing dead cells. It also nourishes the hair. Being a great emollient, almond oil cleanses the skin and remove dead cells and helps get rid of dandruff.

You can apply a mixture of amla and almond oil on the hair and leave for 30 minutes and then wash your hair that would sooth the scalp and ensure you have dandruff-free hair.

Use of Almond Oil as a Substitute for Shine Enhancers and Leave-In Conditioners:

Every time you wash your hair, you can massage them gently with few drops of almond oil. This will condition your hair and keep it soft, shiny and hydrated. The light texture of almond oil makes it a great substitute for shine enhancers or leave-in conditioners. Because of a lot of essential fatty acids and Vitamin E content in Almond oil; it has amazing moisturizing properties.

Benefits of Almond Oil in Treating Scalp Inflammation:

Almond oil is also known to be beneficial in treating scalp inflammation. As our scalp is often exposed to heat, dust, pollution and chemical styling products, it is more prone to inflammation. This scalp inflammation if not treated, can cause acute case of hair fall and dandruff. Now, massaging your scalp with almond oil can be the solution here. Being loaded with fatty acids, almond oil moisturizes and softens the scalp tissues and also improves circulation of blood. This also soothes inflammation in the scalp.
Also Read: