K-Dur mainly has potassium chloride. This is a very necessary mineral that needs for the functioning of various body parts mainly functioning of heart. This mineral is found in many food products we eat.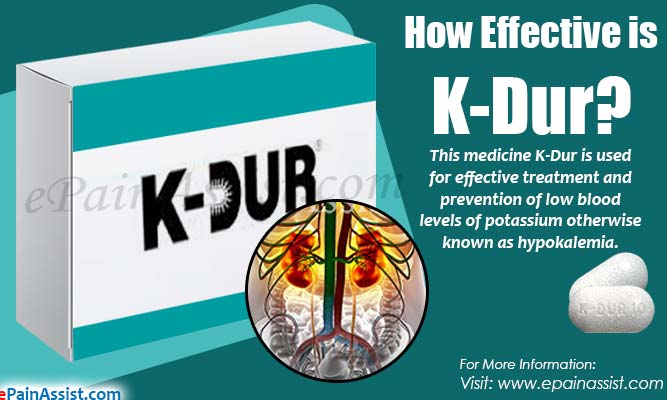 How Effective is K-Dur?
This medicine K-Dur is used for effective treatment and prevention of low blood levels of potassium otherwise known as hypokalemia. There are several reasons which can result in low levels of potassium in the body such as prolonged illness with vomiting or diarrhea, taking some medicines or any other kind of disease.
This medicine K-Dur should not be taken if you have severe burns or tissue injury, Addison's disease, kidney failure, dehydrated, high levels of potassium in blood, if you are taking diuretics (water pills), etc. This K-Dur capsule has to be swallowed as it is without crushing or breaking the extended release tablet. By crushing or breaking the K-Dur pill, too much medicine will be released at a time and sucking a tablet can cause irritation in throat or mouth. You can take this medicine K-Dur right after having your food.
Your blood will be checked very often to make sure this medicine K-Dur is helping your condition. Similarly your ECG or EKG will also be checked from time to time (eco-cardiograph) to learn about heart's electoral activity. These tests will help your physician to determine how long you need K-Dur to resolve or to get relief from this condition. It is important you do not miss any scheduled appointments with your doctor.
There are severe side effects of potassium such as muscle weakness, uneven heartbeat, severe stomach pain, limp feeling, tingling or numbness in your mouth, feet, hands.
You should not stop taking K-Dur without your doctor's knowledge. There are chances of your condition worsening by stopping K-Dur intake suddenly.
Prior to Taking K-Dur
This medicine K-Dur should not be taken if you have any previous allergic reactions to potassium chloride or any of these following conditions
Addison's disease (disorder in the adrenal gland)
Kidney failure
Severely dehydrated
High potassium level in blood (hyperkalemia)
Large tissue injury or severe burn
If you are taking water pills "potassium-sparing" such as triameterne (maxzide, dyazide, dyrenium), spironolactone (aldactazide, aldactone), amiloride (moduretic, midamor)
You need to tell your doctor if you have any of these medical conditions in order to make K-Dur safe for you
In case you have any of these conditions you will need an adjusted or altered dosage level to ensure K-Dur works safe for you.
FDA Pregnancy Category C: It is important to tell your doctor if you are planning to become pregnant or are pregnant at the time to treatment as it is unknown if K-Dur will harm unborn child. Similarly, it is unknown if the medicines K-Dur passes through breast milk to the feeding baby. It is important to tell your doctor if you are breast feeding your child.
What are the Side Effects of K-Dur?
You need to get immediate medical assistance if you have any of these allergic reactions such as swelling of tongue, face, throat, lips, hives or difficult to breath.
You must stop using K-Dur and get immediate medical help if you have any of these following severe side effects:
Increased urination, extreme thirst
Leg discomfort
Tarry, bloody or black stools
Ongoing vomiting, diarrhea, severe stomach pain
Limp feeling, muscle weakness
Uneven heartbeat
Anxiety, confusion, feeling like passing out
Vomit that looks like coffee grounds, coughing up blood
Tingly or numbness in feet or hands
These are the less serious side effects of K-Dur:
Slight tingling feeling in the feet or hands
Occasion or mild diarrhea
Upset stomach or mild nausea is also the side effects of K-Dur.
Other Medicines that Interact with K-Dur
Here are few medicines that effect K-Dur and you must inform your doctor if you are using any of these,
Digoxin (Lanoxin, digitalis)
Eplerenone (Inspra)
An ACE inhibitor like quinapril (Accupril), perindopril (Aceon), enalapril (Vasotec), captopril (Capoten), benazepril (Lotensin), lisinopril (Prinivil, trandolapril (Mavik), fosinopril (Monopril), ramipril (Altace), moexipril (Univasc)
Bronchodilator like tiotropium (Spiriva), ipratroprium (Atrovent)
Quinidine (Quinidex, Quinaglute, Quin-Release)
Any type of water pill (diuretic) such as Hyzaar, chlorothiazide (Diuril), furosemide (Lasix), torsemide (Demadex), bumetanide (Bumex), ethacrynic acid (Edecrin), chlorthalidone (Thalitone, Hygroton), metolazone (Zarxolyn, Mykrox), indapamide (Lozol), hydrochlorothiazide (Vasoretic, HydroDiuril, Zestoretic, Lopressor, HCTZ).