Mittelschmerz is a pain that occurs in lower abdomen and is typically one-sided. This pain occurs at the time of ovulation and is also... Can Mittelschmerz Last For Days? Mittelschmerz is the pain felt by a woman during the middle of her menstrual in the lower abdomen and pelvis...
What Is Involuting Follicle Or Follicular Cyst? Involuting Follicle or Follicular Cysts are benign harmless cysts that, in majority of the cases, develop in females...
What is Benign Mucinous Cystadenoma of Ovary? Benign mucinous cystadenoma of ovary occurs in women during their reproductive age, mostly in early forties or during...
What is Premature Ovarian Failure or Primary Ovarian Insufficiency? Premature ovarian failure or primary ovarian insufficiency can be defined as a failure of the normal...
A pair of ovaries is an important part of the female reproductive system. The shape and size of each ovary are like an almond....
Ovarian Carcinoma is believed to be one of the main causes of death for women all over the world. The cause of ovarian carcinoma...
The infarction of ovarian cyst is a medical condition in which the cysts present in the ovaries become non-viable. This occurs due to the...
What Does Having a Low Ovarian Reserve or Poor Ovarian Reserve Mean? Every female right at the time of her birth has certain amount of...
What is Tubo-Ovarian Abscess? Tubo-ovarian abscess is a condition where there is collection or accumulation of pus and bacteria within the part of the fallopian...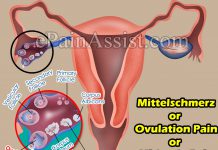 What is Mittelschmerz? Mittelschmerz is a pain which is felt during ovulation. This pain is located on one-side and is felt in the lower abdomen....
What is Ovarian Torsion? Ovarian torsion is a medical condition where the ovary rotates to such an extent that it causes occlusion of the ovarian...
What is Ovarian Cysts? An ovary is a reproductive organ of women, present in pairs on each side of the uterus. They are roughly the...