After having your baby, it is very important to take care of not just yourself, but also your baby. During the postpartum period, it is important that you eat nutritious foods. This will especially be beneficial if you are breastfeeding as the food you eat will not just be helpful for you, but also help your baby grow strong and healthy. Having good eating habits will also help you lose the weight gained during the pregnancy. Here are some healthy foods for women to have right after labor.
Importance of Postpartum Nutrition
The process of labor can be exhausting and demanding. Many women are surprised to learn that the process of labor burns up nearly 100 calories within an hour.(1) What a woman eats right after delivery can help you gather the energy you will very much need for the coming weeks and months.(2) Remember, there are sleepless nights ahead for a new mother, caring for a new baby, physical recovery, and also breastfeeding. The process of breastfeeding itself consumes a lot of calories. New moms end up burning almost 500 extra calories a day in producing breast milk.(3) Consuming a wide variety of foods can help you during the postpartum recovery period by providing you with the necessary vitamins and minerals, fiber, and other essential nutrients that your body needs.(4,5)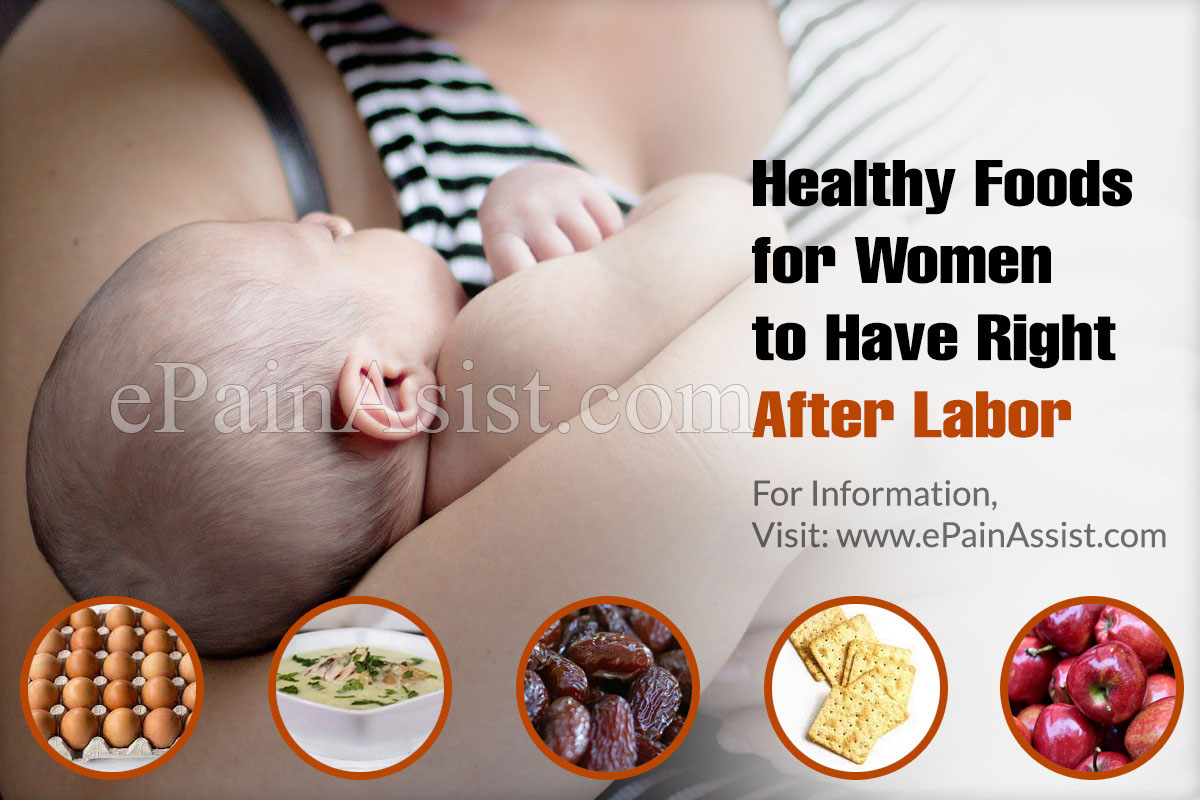 Healthy Foods for Women to Have Right After Labor
Here are some healthy foods for women to have right after labor.
Eggs
Eggs are one of the essential sources of protein and are referred to as superfood today. They help relieve sore muscles that have worked and contracted nonstop throughout the entire labor process.
Eggs are a powerful source of vitamin D, B6, B12, selenium, and minerals such as iron, copper, and zinc. Egg yolk also contains a lot of extra fat and calories than the whites, so try to incorporate more of yolks in your diet.
It is even better if you are able to have fortified eggs as they have the added benefit of many brain-boosting and healthy omega-3 fatty acids. Research has shown that there is a strong link between postpartum depression and low levels of omega-3 fats in the body.(6) Taking supplementation of omega-3 fatty acids can also help decrease this risk. 
Chicken Soup
Chicken soup is not only needed during the flu and cold. It is very common for women to experience profuse sweating in the weeks following their delivery. This happens because the body is getting used to the extreme hormone fluctuations after childbirth.
You may be given intravenous fluids during delivery, but your body also requires more fluid, especially if you plan to breastfeed. Studies show that lactating women need an additional liter of fluids each day as compared to non-lactating women.(7)
Many women don't like the taste of plain water after delivery, so adding chicken soup may prove to be the perfect postpartum food. Chicken soup is not only healthy, but it is also hydrating and salty. It helps replenish the electrolytes lost during labor naturally. Add noodles to the soup to add some much-needed carbs. 
Dates
Dates are an excellent source of several vitamins and minerals, sugar, energy, and fiber. They are also rich in iron, calcium, potassium, magnesium, zinc, and phosphorus.(8) A small study discovered that eating dates right after labor can significantly reduce blood loss and hemorrhaging as compared to when they administer oxytocin.(9)
One of the biggest benefits of consuming dates right after delivery is that they are rich in simple sugars, which gives you a quick boost of energy post giving birth. A single date packs in a whopping 16 grams of energy. Carbohydrate and calorie intake has to be high after delivery, especially if you are breastfeeding.(10) 
Salted Crackers
It may sound like an unusual choice, but eating salted crackers can help deliver electrolytes and carbohydrates to you immediately after delivery. This allows you to build back your energy levels after the exhausting process of labor.
Salted crackers are usually recommended to combat nausea during pregnancy. If you are feeling a little heady after the whole delivery experience, salted crackers serve as a comfort food and help you calm down as well. 
Apples
Apples are delicious, highly nutritious, and they come with an extensive list of health benefits. Apples are rich in pectin fiber that helps boost metabolic levels, regulates the body's blood sugar levels, and helps improve heart health as well. They are a powerhouse of vitamins and minerals that promote the health of your bones, skin, and teeth. Apples are also full of vitamin C that boosts immunity.(11)
After delivery, some women may find it difficult to even walk to the sink to brush their teeth. In such cases, eating an apple can reduce salivary bacterial viability in a very similar way as brushing does.(12) Though of course, eating an apple is no a replacement for brushing and flossing, but it can come in handy on the particularly difficult days.  An apple also contains 4.4 grams of fiber to ensure regular bowel movement.(13) 
Conclusion
While these may not seem like very glamourous and delicious foods that you were probably dreaming about throughout your pregnancy, but these will come in handy after the delivery and throughout the postpartum period. Keep in mind, though, that every woman is different, as are the nutrition needs. If you are breastfeeding, you will need to eat, keeping in mind what is good and bad for your baby as well. Remember to eat foods that are rich in protein such as cheese, milk, yogurt, fish, meat, and beans. Protein-rich foods are essential after labor to help you recover from the process of childbirth and also helps keep your body strong. At the same time, continue to drink a lot of fluid, especially if you are breastfeeding. You should try to drink mostly water, fruit juice, and mild. Avoid alcohol as it may delay the healing of your body after delivery.
. Kordi, M., Meybodi, F.A., Tara, F., Fakari, F.R., Nemati, M. and Shakeri, M., 2017. Effect of dates in late pregnancy on the duration of labor in nulliparous women. Iranian journal of nursing and midwifery research, 22(5), p.383.
Liu, N., Mao, L., Sun, X., Liu, L., Yao, P. and Chen, B., 2009. The effect of health and nutrition education intervention on women's postpartum beliefs and practices: a randomized controlled trial. BMC public health, 9(1), p.45.
Thelactationnutritionist.com. 2020. [online] Available at: <https://www.thelactationnutritionist.com/post/how-many-calories-does-breastfeeding-burn-with-calorie-calculator> [Accessed 25 September 2020].
Gennaro, S. and Fehder, W., 2000. Health behaviors in postpartum women. Family & Community Health, 22(4), pp.16-26.
Gennaro, S. and Fehder, W., 2000. Health behaviors in postpartum women. Family & Community Health, 22(4), pp.16-26.
Levant, B., 2011. N-3 (omega-3) Fatty acids in postpartum depression: implications for prevention and treatment. Depression research and treatment, 2011.
Campbell, S., 2004. Dietary Reference Intakes: Water, potassium, sodium, chloride, and sulfate. Clinical Nutrition Insight, 30(6), pp.1-4.
Al-Shahib, W. and Marshall, R.J., 2003. The fruit of the date palm: its possible use as the best food for the future?. International journal of food sciences and nutrition, 54(4), pp.247-259.
ResearchGate. 2020. (PDF) Comparing The Efficacy Of Dates And Oxytocin In The Management Of Postpartum Hemorrhage. [online] Available at: <https://www.researchgate.net/publication/264384650_Comparing_the_efficacy_of_dates_and_oxytocin_in_the_management_of_postpartum_hemorrhage> [Accessed 25 September 2020].
2020. [online] Available at: <https://fdc.nal.usda.gov/fdc-app.html#/food-details/168191/nutrients> [Accessed 25 September 2020].
Boyer, J. and Liu, R.H., 2004. Apple phytochemicals and their health benefits. Nutrition journal, 3(1), p.5.
Rubido, S., García-Caballero, L., Abeleira, M.T., Limeres, J., García, M. and Diz, P., 2018. Effect of chewing an apple on dental plaque removal and on salivary bacterial viability. PloS one, 13(7), p.e0199812.
2020. [online] Available at: <https://fdc.nal.usda.gov/fdc-app.html#/food-details/171688/nutrients> [Accessed 25 September 2020].
Also Read: