Genvoya tablet is a blend of elvitegravir, cobicistat, tenofovir and emtricitabine chemicals. Cobicistat decreases the activities of enzymes that halt some of the antiviral medications in the liver. This permits the antiviral drugs to be utilized more successfully and without harm, at minimal doses. Tenofovir, emtricitabine and elvitegravir are an antiviral drug that averts the reproduction of HIV cells in your body. HIV virus can lead to AIDS.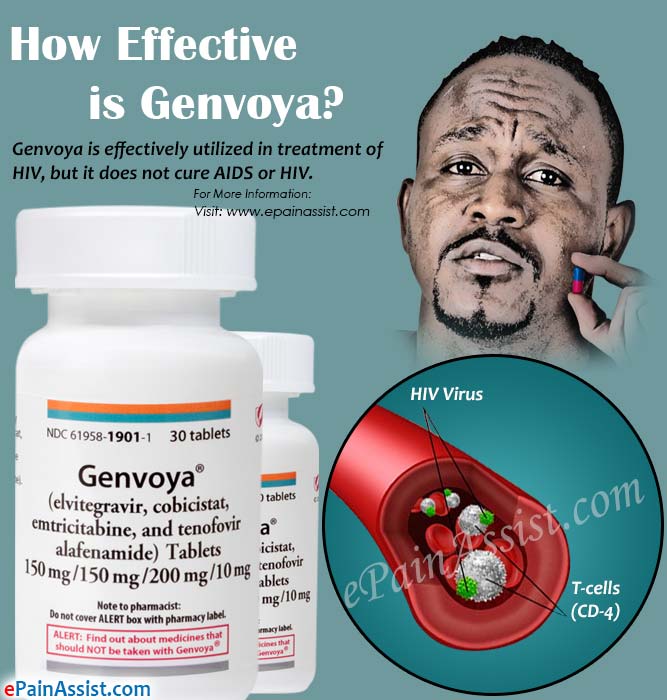 How Effective is Genvoya?
Genvoya is effectively utilized in treatment of HIV, but it does not cure AIDS or HIV. This medication Genvoya is only used in children above 12 years old and in adults.
People who are allergic to Cobicistat, Emtricitabine, Elvitegravir and Tenofovir should not use Genvoya. There are drugs that can affect genvoya if used concurrently. Your doctor can alter your treatment program if you are taking any of these medicines:
Alfuzosin,
Rifampin,
Oral Midazolam or Triazolam
Simvastatin, Lovastatin,
St John's Wort,
Antipsychotic drugs such as Pimozide and Lurasidone,
Sidenafil or Revatio used in treatment of pulmonary arterial hypertension,
Convulsion medications like Phenytoin, Phenobarbital and Carbamazepine.
Ergot drugs such as Ergotamine, Dihydroergotamine, Methylergonovine and Ergonovine.
Genvoya is a whole mixture treatment, therefore it should not be taken together with additional antiviral medicines , particularly those that comprises of cobicistat, lamivudine, elvitegravir, adefovir, emtricitabine, tenofovir or ritonavir; or those containing epivir, complera, hepsera, norvir , kaletra, epzicom, trivizir, tybost, triumeq, truvada, viread or viekira.
For you to be safe while taking genvoya ensures that your doctor is aware if you have;
Kidney or liver illnesses
Have a history of infection of Hepatitis B or C.
Or if you have a low bone mineral weight known as Osteopenia.
Certain people develop severe disorder known as lactic acidosis when they use Genvoya. This is most common in women, in those with liver problems or overweight patients and in patients who have used HIV/AIDS drugs for a long period of time. Inform your doctor about the risks you face.
Genvoya is projected to be safe to your unborn baby. However, the HIV virus can infect your baby if you are not correctly treated when pregnant. You should use all your HIV drugs as advised to curb you infection.
Names of the pregnant women might be recorded in the pregnancy registry. This will assist in monitoring the aftermath of the pregnancy and to assess the effects of the drug on the unborn child.
HIV or AIDS women must not breastfeed their babies. Your child may be born without the virus, but HIV can be transmitted via breast milk.
Genvoya is not ratified to be used in children weighing below 77 pounds and those under the age of 12 years.
What is the Recommended Dosage for Genvoya?
General Adult Dose of Genvoya for Treating HIV Infection:
Take 1 tablet daily with food. Administer orally.
Genvoya is effectively utilized as a whole regimen in treatment of HIV-1 infections in people with no records of antiretroviral treatment or as a substitute of the existing antiretroviral regimen in people who are virologically-suppressed ( HIV-1 below 50 copies/Ml) on a steady antiretroviral regimen for a minimum of 6 months without any history of failure in treatment and with no recognized replacements linked to opposition to single constituents of this medicine.
What are the Side Effects of Genvoya?
Common side effects of genvoya are:
Nausea,
Alterations of body fat position or shape particularly in your neck, face, arms, waist, breast or legs are side effects of genvoya.
Seek immediate medical assistance if you experience any symptoms of allergic reactions to Genvoya, such as breathing difficulties, hives or swelling of your lips, throat, face and tongue.
Initial signs of lactic acidosis may escalate with time and this state can cause death. You should get quick medical assistance when you have even slight signs. These symptoms includes breathing problems, muscle weakness or pain, numbness or a cold sensation in your legs and arms, dizziness, unstable or fast heartbeats, feeling tired or generally fatigue. Contact your doctor immediately in case of;
Kidney issues such as short breaths, difficulty or pain when urinating, minute or no urinating and swelling on feet or ankles.
Liver issues like uncommon fatigue, jaundice, dark urine, no appetite, nausea, swelling of your midsection, and upper stomach pain.
Genvoya can escalate your chances of getting autoimmune disorders or some infections by altering the manner in which your immune system works. Signs may appear after weeks or months from the start of treatment. Inform your doctor if you have;
Symptoms of fresh infections like diarrhea, weight loss, night sweats, fever, stomach pain, swollen glands or mouth sores.
Chest pains especially when breathing like shorty breaths, dry cough and wheezing.
Cold sores and sores on your anal and genital areas.
Fast heartbeat, anxiety, feeling irritated, prickly feeling or weakness, issues with eye movement or balance.
Problem swallowing or speaking, serious low back pain, loss of bowel or bladder control.
Swelling on throat or neck, impotence, menstrual changes or no sex interest.