In this article, we will discuss about:
Patient suffering with chronic pain demands pain relief. Cost of treatment to provide pain relief can be astronomical. Patients are well educated by health organization, news media and fellow pain patients regarding treatment options and benefits of treatment. Medications, physical therapy, interventional treatment and surgery are different choices of treatment for chronic pain. Cost of each modality of treatment is substantial. In many patients most of the time combination of treatment is necessary, which obviously doubles the cost of treatment. Opioid pills are main analgesics used in treatment of chronic pain. Several alterations were made in recent years in oral drug delivery structure of opioid pills. Research, legal and education cost is bundled into medication cost resulting in substantial increase of each pill price. Significant increase of cost of analgesic treatment has put considerable economic strain on Patients, Insurance Companies, Medicare and Medicaid. In United States every year over 100 billion dollar is spent for chronic pain treatment. Economic strain is significant as a result of lost productivity, disability, and health care utilization. In few patients chronic pain continues for several months or years after treatment failure. Treatment tried is often all, including surgery. Surgical treatment may have corrected mechanical problem in most of the patient, but physiological pain continues at intolerable level despite continuous optimum dosage of oral medications. One of the choices of treatment for patients with chronic intractable pain not responding to conservative treatment and surgery is intrathecal pain medication.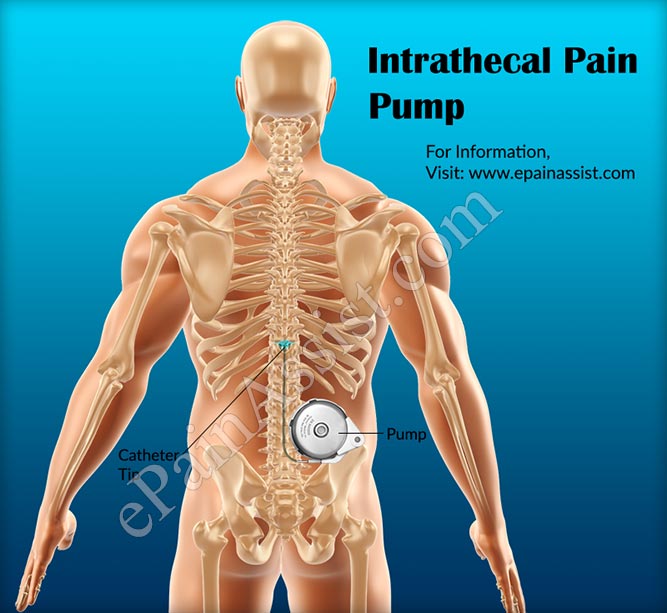 Cost of Intrathecal Pain Pump, Catheter and Surgery
Management of chronic pain is expensive. Patient suffering with chronic pain often visits emergency room, multiple doctor consultations, multiples visits with pain physician, multiple investigations every time intensity of pain increases and description of pain symptoms changes. Chronic pain patients are often admitted in hospitals for pain management to find the reason of increased pain. Cost of all these treatment, investigation, office visit, hospitalization and trial of multiple medications is often astronomical. Alternatively patient has a choice of controlling chronic pain with intrathecal pain medications. Adequate pain relief prevents ER visits, hospital admissions and unnecessary duplication and repetition of expensive investigations. Intrathecal pain medication therapy is expensive during initial phase of treatment.
Cost of Intrathecal Pain Pump and Catheter
There are two types of intrathecal pain pump known as programmable pump and non-programmable pump.
Cost of Programmable pump is higher than non-programmable pump.
The cost also includes intrathecal catheter and kit. Pre-sterilized kit contains needle and all necessary instruments to insert catheter in cerebrospinal fluid. The payment of treatment depends on payment schedule of Medicare and other health care provider.
Facility Cost-
Surgery is performed in out patient surgery. The payment schedule of Medicare and private health insurance often different. The facility fees are often lower than cash payment if one does not have any medical insurance.
Anesthesia Cost-
The anesthesia medications and equipment are provided by the outpatient surgery and cost is included in surgical center facility charges.
Anesthesiologist fees are depending on insurance fee schedule. The payment considers the level of difficulties in providing anesthesia as well as time taken for surgery.
Surgeon's Fee
Pain specialist, neurosurgeon or orthopedic surgeon performs surgery. Insurance provider covering medical treatment of patient pays the surgeon's fee. Surgeon's fee is also dependent level of difficulties and time. Surgeon will bill the same amount to patient who is not insured, which he would bill Medicare or other Insurance provider.
Cost of Pump Refill
Pump Refill Procedure-
Pump refill is obligatory for next several years after placement of pump and catheter.
Refill is done under strict aseptic precautions.
Needle is placed in reservoir chamber under sterile technique and residual old medication is removed by aspiration.
Twenty CCs of new medications are instilled into programmable pump.
Reservoir is filled with new medicine every one to three months depending on rate of delivery.
Nonprogrammable pump with fixed rate needs to be refilled every 3 to 6 weeks depending on predetermined fixed rate of pump and capacity of reservoir.
Cost of pump refill includes cost of refill kit, which could be $50 to $150 and Physician fee, which could be $ 65 to $ 90.
All the payment amounts described above are based on Medicare payment paid to facilities and physician in 2012. Medicare pays 80% of the charges submitted by facilities and physician. Check Medicare payment schedule for payment in 2015 or later. The information is available on Medicare web page.
Medications Used in Pump
Medications used intrathecally for treatment of chronic pain are opioids (morphine, hydromorphone, methadone, fentanyl and sufentanyl), muscle relaxants (baclofen), alpha 1 receptor blocker (clonidine) and local anesthetics (bupivacaine).
Opioids and muscle relaxants are often used as solitary drug for pain and muscle spasticity during initial phase called phase 1. In few cases these medications are used in combination with other medications.
Combinations of different medication are preferred when solitary drug in phase one is ineffective.
Cost of the medication instilled in to the pump depends on the phase of the therapy. Cost is lower during phase 1 than phase 2 and 3. Cost of medications in Phase 3 is most expensive.
Cost Incurred In Different Phases Of Intrathecal Pain Pump Treatment:
Cost During Phase 1 –
Initial medication used as analgesics after insertion of pump is morphine and hydromorphone.
Initial dose is 0.2 to 0.5 mg in 24 hours.
Dosage of medications is slowly increased by 0.2 to 0.3 mg once or twice a week to achieve at least 50% pain relief.
Some patient may need up to 5 to 10 mg of morphine or hydromorphone every 24 hours.
Cost of medications could be $15 to $50 per refill depending on concentration and amount of drugs in solution. Morphine and Dilaudid is less expensive than fentanyl or sufentanyl.
Cost During Phase 2 –
Neuropathic pain may not respond to intrathecal opioids.
Opioid is mixed with either bupivacaine or clonidine if opioid is ineffective in phase 1.
Addition of bupivacaine and clonidine may help to reduce neuropathic pain. Bupivacaine or clonidine is added to morphine or hydromorphone solution.
Dose is titrated with intrathecal opioids.
Clonidine may cause hypotension in few cases. Blood pressure monitoring is essential while patient is treated with clonidine.
Cost of compounded medications is higher than the opioid alone. Additional cost for bupivacaine and clonidine could be $50 to $80 per refill.
Cost During Phase 3 –
Baclofen is added to the medications used in phase 2.
Opioid is mixed with baclofen and bupivacaine or clonidine.
Phase 3 begins after few months of intrathecal opioid treatment.
Third line of drug combination is chosen only after failure of first and second phase of treatment.
Addition of baclofen ads the cost by additional $ 15 to $30 per refill.
Cost During Phase 4 –
Hydromorphone or morphine is replaced with fentanyl or sufentanyl.
Changes are made when pain relief is inadequate because of resistance or tolerance to morphine or hydromorphone.
Fentanyl or sufentanyl is added to baclofen and bupivacaine or clonidine solution. In few cases midazolam is used instead baclofen as GABA agonist.
The cost of fentanyl is less than sufentanyl. The cost increases by $50 to $150 when one of these drugs replaces morphine or Dilaudid.
FDA Approval Of Intrathecal Medications –
FDA has approved only morphine, ziconotide and baclofen.
All other medications used in different phases are safe and used for last few years.
Careful monitoring and dosing has eliminated severe and serious complications.
Also Read: