The time of your monthly cycle can be a tricky thing as you need to be picky while going for the foods that suit you and ease your pain during those tough days. Sometimes, you may feel for binge eating at a gigantic level and this makes you weighty if you already have weight issues. Besides that, food cravings can cause other health issues too. So, be watchful about what you eat during your periods. Know what to eat and not to eat on periods to have health menstruation.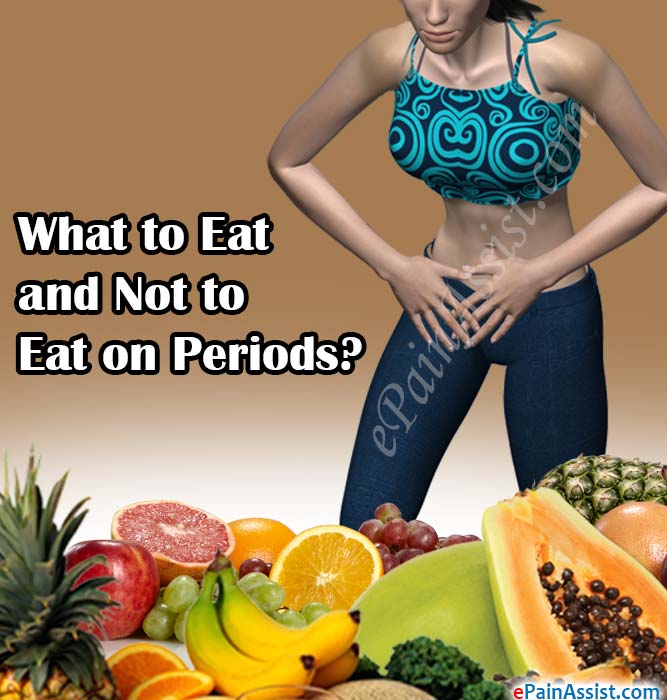 What to Eat and Not to Eat on Periods?
Binge eating during periods can be very problematic as you may lose out a lot on your health. But which foods to go for if you wish to have better health?
This guide talks about the foods which are really helpful to have an easy period and keeps you away from bad health too.
What to Eat on Periods?
Here are some of the best foods you should have to keep yourself healthy. Know what to eat on periods.
Combine protein with all your diets and choose complex carbs to give you a health boost and maintain blood sugar. You feel less hungry as fast digestion takes a back seat and provides the required energy too. When there are better ways of choosing protein options, go for the foods which include non-vegetarian sources. For the vegetarians, peanut butter and soy milk can be a good option but remember to keep the quantity of food within limit. If you are wondering what to eat on periods, it is the protein that can keep you strong during those days.
Taking healthy fats is always helpful. Choose from cashew nuts, walnuts, almonds and sunflower seeds which are rich in antioxidants and also help you to fortify the loss of good nutrients from your body. These foods are rich in magnesium which effectively curbs down the cravings that you have. You may also try better alternative of chocolates including the dark chocolate having loads of anti-oxidants to cope up with the wear and tear which your body undergoes on a continuous basis.
Also, focus on controlling your food cravings which can be a big trouble owing to lack of nutrition. This is to be noted that all your health ailments can be taken care of and you can come out to be in better health than ever. In this regard, eating rich fiber food can help you deal better with food cravings as we all know that too much of binge eating can further lead to hormonal imbalance. Include fiber rich fruits, veggies and whole grains in what you eat on periods.
Lean meat, fish and nuts which are equipped with good protein and omega 3 fatty acids are very helpful in easing out the pain during periods.
The most important in your list of what to eat on periods must also include consuming plenty of water to stay hydrated. The above foods are perfectly alright to ensure your high energy levels as the risk of anemia and bone loss is high in menstruating women. With the help of rich and healthy food equipped with nutrition, you can surely catch up with better health which keeps you free from such ailments during periods.
Exercising also works wonders but you have to be certain about the food you are eating so that nutrition can be maintained. It is always recommended that you should have a healthy lifestyle so that there are lower chances of ailments which can trouble you.
What Not to Eat on Periods?
If you are wondering what not to eat on periods, here is the list. Find some foods that are a complete NO when you are on periods!
While going for eating the right food during periods, you need to understand and avoid what is not going to suit you at all. Being watchful in picking up the right food is very important which particularly the case is, when you are having periods. Check out the foods which need to be avoided at all cost while you are menstruating:
Avoid foods which are processed as they have lots of salt which can disturb the hormonal balance of your body. Avoid chips, salted snacks, ready-made foods and packed lunch, etc.
Food which is high in fat also leads to abnormal activity, especially during pregnancy. This can increase problems of PMS giving rise to bloating and tender breasts. You need to avoid the sausages, beef, whole milk products and also any such food to which you are not tolerant to.
Foods which are high in sugar are especially very troublesome for your overall health as well. Taking the high sugary food can not only add to weight problems and increase risk of diabetes, but also cause disturbance in your entire eating pattern. Attaining a healthy immune system is impossible when you are too much into foods which are fatty and sweet.
Foods having high level of caffeine can be of great problem as they tend to dehydrate your body which can be a contributing factor in causing depression and other stress related issues. You can instead go for herbal tea or green tea.
Along with the knowledge of what to eat and not to eat on periods, you need to follow a healthy lifestyle. Your main aim is to avoid the foods which cause your stomach to bloat and trigger the hormonal imbalance. Avoid large meals which can affect your digestion and metabolism, giving rise to hormonal imbalances. Take small meals in the require amounts and stick to healthy eating with loads of fruits and veggies during those days. Eating light and fresh is the key to good health during periods.
Involve in light activity or a walk, if you are comfortable, which helps to balance your mood and curb unwanted food cravings. You need to be quite watchful in picking the right food so that your body remains in the best of health. Now that you are aware of what to and not eat on periods, you can surely plan your healthy meals.
Also Read: