When tested on animals it was found that intake of Forteo was drastically increasing the risk of bone cancer. However, it is not confirmed yet that Forteo is equally harmful for human being and causes bone cancer in human being also. This is why it is recommended that one should discuss about the same in detail with their doctors before taking the medication.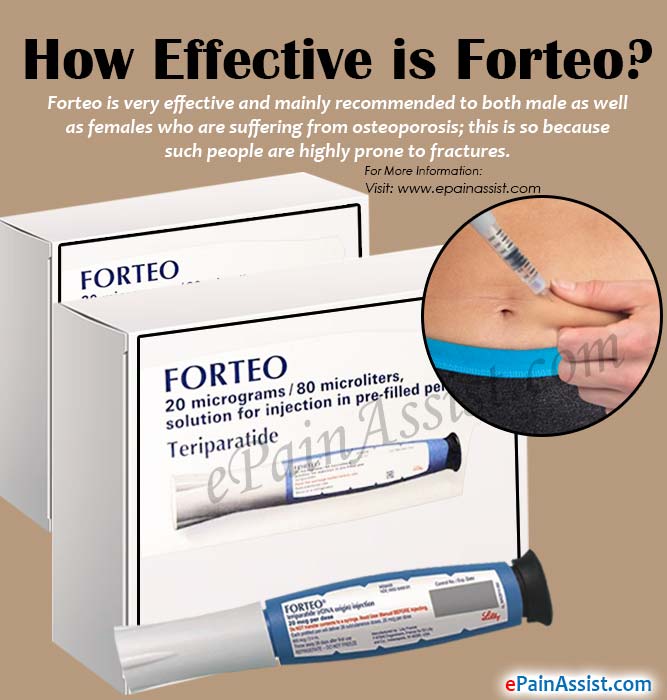 How Effective is Forteo?
Forteo is an artificial form of parathyroid hormone which naturally exists in the body. Forteo is used to effectively enhance bone strength and density, which is very helpful in preventing bone crack or factures.
Forteo is very effective and mainly recommended to both male as well as females who are suffering from osteoporosis; this is so because such people are highly prone to fractures.
There are some serious side effects of Forteo that can lead to improper thinking and unexpected reactions. Hence, after intake of this artificial hormone one should strictly avoid driving or any other work that requires alertness. Also, one should try to avoid smoking, in fact should completely quite smoking. Cigarette smoking can gradually reduce bone density making an individual prone to fractures. Consumption of alcohol can also have adverse effect on bone mineral density.
Things to Discuss With Healthcare Professional about Using Forteo
People who are allergic to teriparatide should strictly avoid Forteo. Before taking Forteo one should clearly mention the following things to their doctors:
People who have any of the above condition need a specific dose of medicine or may be asked to undergo some tests to know how safe Forteo is for the patient. If people encounter any above mentioned condition, then doctor may suggest some alteration in the dose.
This medication Forteo is very harmful for unborn baby, so pregnant women should not take this medication. Hence, it is very important that one should clearly inform the doctor if she is pregnant or planning a baby soon. Although, it is not sure that whether Forteo passes into breast milk, but still doctors do not prescribe Forteo to breast-feeding mothers.
As mentioned above studies have revealed that Forteo caused bone cancer in animals, but it is still not confirmed that whether the medication behaves equally on human beings. This is why discussing all the detail with the doctors is a must before starting the intake of this artificial hormone.
What are the Side Effects of Forteo?
One should take immediate action if they face any of the below mentioned signs of allergic reactions or side effects of Forteo. The symptoms or side effects include:
Difficulty in breathing, swelling on lips, tongue, throat or face. If any of these sings are experienced by patient then they should immediately stop the medication and should consult the doctor about the same. Some of the other side effects that are serious in nature include:
Feeling uneasy or uncomfortable on taking the medicine
Increase in the rate of heartbeat
Feeling nausea, constipation or weakness.
Other side effects of Forteo may include:
How to Use Forteo?
One should take Forteo exactly the way it is suggested by the medical practitioner. Making any alterations in the dosage of Forteo without doctor's consent can cause some serious ill effects. Hence, one should only follow what doctors say.