It is not easy to reduce weight rapidly in patients suffering with obesity. Obesity is often associated with diabetes, hypertension, back pain and cardiovascular disease. Obese individual should consult the physician before starting any exercise therapy. Exercise therapy should be planned only after physician allows obese individual to begin exercise program. Exercise therapy should consider weight, age and associated chronic diseases.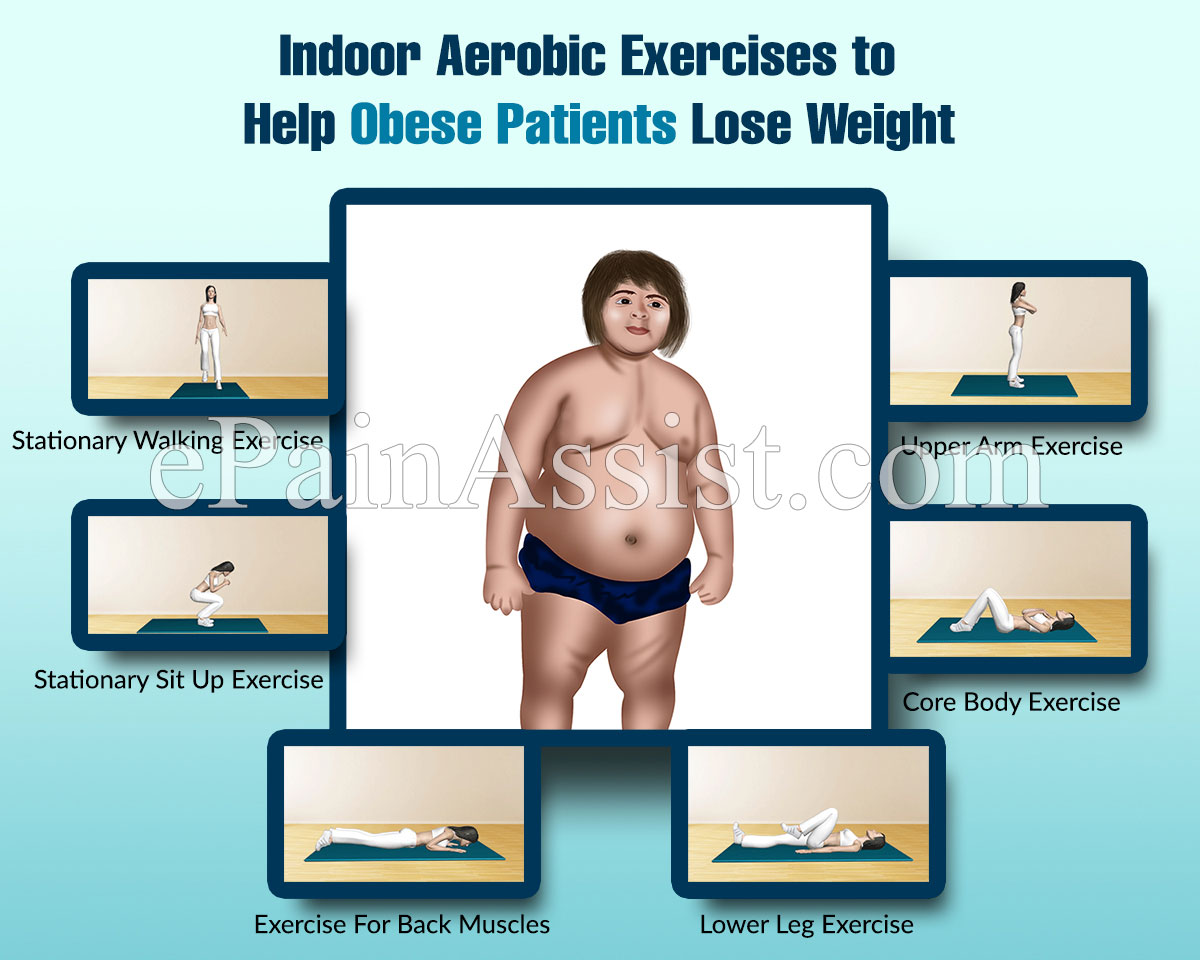 Choices of therapy includes aerobic therapy, resistance treatment and weight training. The balance has to be tilted between energy consumed as nutrition and energy expended by exercise. The tilt should be to consume less energy and burn more calories.1 Substantial weight loss is observed only after daily or weekly significant aerobic exercises.2 Scientific published study suggests aerobic exercise is better than resistance exercises for weight reduction and to reduce body lipid content in obese patients.3 Published study also suggests combination of aerobic and resistance training improves bone metabolism and inflammation which may assist rapid weight reduction.4
Aim of Weight Reduction Therapy For Obese Patients
1. Improve Chronic Illnesses
Eliminate or decrease symptoms of diseases caused by obesity.5
Weight reduction in obese patients helps to improve diabetes and cardiovascular illnesses.5
Reduced insulin requirements and improve diabetes symptoms.
Lower blood pressure and improve symptoms of hypertension
2. Lose Weight- Weight reduction causes improvement in following associated symptoms-
Improves Stamina
Improves mood
Improves sleep
3. What Is The Ideal Approach To Perform Daily Exercises For Obese Patients-
Obese patient does much better with initial slow reduction of weight than rapid reduction of weight.
Rapid reduction needs weight training and long hours of work out with less in take of calories.
Such heavy energy daily timetable can increase symptoms of back pain, blood pressure and cardiac diseases.
Symptoms of increased back pain, headache or shortness of breath may discourage patient from continuing exercise.
Some obese patients are rarely motivated to do daily exercises.
Slow start is tolerated well by most obese patients.
Start with 15 minutes for first 2 to 3 weeks
Increase 15 more minutes ever 2 to 3 weeks.
Maximum hours of exercise should be 1.5 to 2 hours.
4. Motivation
It is extremely difficult to motivate to perform any type of exercise.
It become very easy once individual begins exercise
Ignore intimidation
Exercise Guide To Help Obese Patients Lose Weight
A. Level I: First 4 Weeks
Indoor Exercises For Obese Patients –
Following indoor exercises are helpful to burn calories. An exercise of arms, core muscles, back and a leg muscle as described below causes simultaneous contraction and relaxation of multiple muscles resulting in burning of calories. Balancing and maintaining straight position may be difficult for obese patient. Obese individual is encouraged to use cane, walker and stationary object to support while doing exercise in standing position. If balancing is difficult then do not perform sit up and stationary walking exercises.
1. Upper Arm Exercise For Obese Patients
Extend and Stretch both the upper arms on side of the body and extend as far back as possible.
Bring both arm in front of the body and touch back of opposite shoulder
Repeat same exercise 10 times.
2. Core Body Exercise For Obese Patients –
Lie flat on your body
Keep hands on your chest
Flex upper body and lower leg to bring head and knee close to chest and abdomen.
Repeat same exercise 10 times.
3. Lower Leg Exercise For Obese Patients
Lie flat on your back, lift each leg as instructed below.
Lift left leg only
Flex and extend the leg at Hip and Knee joint
Repeat exercise 10 times on left side.
Next lift the right leg
Flex and extend the leg at Hip and Knee joint
Repeat same exercise 10 times on right side.
4. Exercise For Back Muscles For Obese Patients-
Lie on your stomach.
Keep the hand on side of upper arm.
Lift the upper body as much as possible.
Obesity may allow only minimum lift during initial phase.
Repeat exercise 10 times.
5. Stationary Sit Up Exercise For Obese Patients –
Stand with feet separated in comfortable position
Try to maintain partial sit up position with knee and hip bent
Bend knee as far as possible while maintaining balance of upper body.
During first few days knee bending will be difficult, so partial or minimum bending is good.
Come back to straight position.
Repeat the same exercise 10 times.
6. Stationary Walking Exercise For Obese Patients-
Stand straight in comfortable position
Walk in standing position
Maintain balance,
If balancing is difficult use walker, cane, side of table or bed to prevent from losing balance.
Walk as long as possible but not more than 10 minutes for first 1 week.
Repeat sets of all exercises 3 times, complete exercise should last 30 minutes.
B. Level II- 4 to 8 Weeks
Indoor Aerobic Exercises For Obese Patients
Continue Level I Exercises-
Continue all above indoor exercise except stationary walking
Five indoor exercises should last 18 to 20 minutes.
Indoor Aerobic Dancing-
Video presentation- Follow instructions given by professional presenting aerobic video dance.
Do as much as possible for first 1 week.
Do not overstretch muscle or joint while dancing or joint movements.
Do exercise for 10 to 15 minutes by week 6 to 7.
Walk On Treadmill-
Walk on treadmill for 15 minutes if possible before aerobic dancing exercise.
Increase time by 2 to 3 minutes.
Walk on treadmill for 30 minutes at the end of 8th week.
If treadmill is not available then extend indoor aerobic dancing to 30 minutes
Total Exercise Time Would Be As Follows-
Level I exercise- 20 minutes
Aerobic Dancing- 15 minutes
Walk on Treadmill- 30 minutes.
Total Time- 65 minutes
If Treadmill Is Not Available-
Level I Exercise- Add additional sets to increase the time to 30 minutes
Aerobic Dancing- 30 minutes
Total Time- 60 minutes.
Exercise should be combined with diet restrictions. Continuation of exercise is essential to prevent energy imbalance and regaining weight.6
Increase exercise time to 1.5 to 2 hours daily by increasing time of level I and level II exercises.
Also Read:
6 Exercise for Fat/Obese People to Lose Weight
Top 10 research questions related to energy balance.
Shook RP, Hand GA, Blair SN., Res Q Exerc Sport. 2014 Mar; 85(1):49-58.
The role of exercise and physical activity in weight loss and maintenance.
Swift DL1, Johannsen NM2, Lavie CJ3, Earnest CP4, Church TS5. Prog Cardiovasc Dis. 2014 Jan-Feb;56(4):441-7.
Aerobic exercise but not resistance exercise reduces intrahepatic lipid content and visceral fat and improves insulin sensitivity in obese adolescent girls: a randomized controlled trial.
Lee S1, Deldin AR, White D, Kim Y, Libman I, Rivera-Vega M, Kuk JL, Sandoval S, Boesch C, Arslanian S., Am J Physiol Endocrinol Metab. 2013 Nov 15;305(10):E1222-9. doi:
10.1152/ajpendo.00285.2013. Epub 2013 Sep 17.
Aerobic plus resistance training improves bone metabolism and inflammation in adolescents who are obese.
Campos RM1, de Mello MT, Tock L, Silva PL, Masquio DC, de Piano A, Sanches PL, Carnier J, Corgosinho FC, Foschini D, Tufik S, Dâmaso AR.
J Strength Cond Res. 2014 Mar;28(3):758-66.
Weight loss, exercise or both and cardiometabolic risk factors in obese older adults: results of a randomized controlled trial.
Bouchonville M1, Armamento-Villareal R2, Shah K3, Napoli N4, Sinacore DR5, Qualls C6, Villareal DT7.
Int J Obes (Lond). 2014 Mar;38(3):423-31.
Effect of exercise on obesity.
Garrow JS., Acta Med Scand Suppl. 1986;711:67-73.