Elderflowers are pretty flowers that are extremely beneficial not only for your health but also for your skin and hair. They are a great source of bioflavonoids, which prevent early aging. The astringent properties of these flowers keep the skin tight, diminish the skin pores, and make the skin smooth. Moreover, the presence of anti-oxidants makes them effective for fighting against sun damage. Furthermore, anti-fungal and anti-microbial compounds of these flowers keep the skin clear and healthy. Let us look at 5 beauty benefits of elderflowers that make them incredibly popular in beauty and wellness.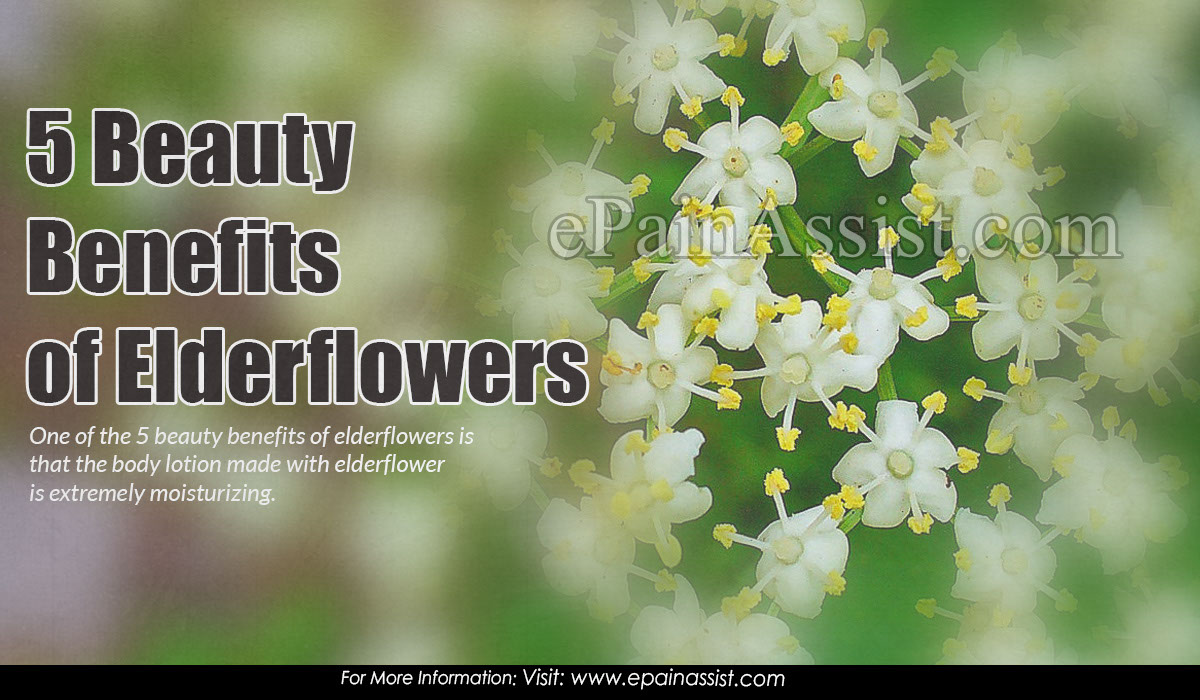 5 Beauty Benefits of Elderflowers
Here are some amazing beauty benefits of elderflowers:
Elderflower As Body Lotion

One of the 5 beauty benefits of elderflowers is that the body lotion made with elderflower is extremely moisturizing. For making this, you need to take an equal amount of elder oil and Kokum butter. Stir well both the ingredients to make a smooth gel and store it in an airtight container. Now use it every day as your body lotion. This will keep your body skin moisturized the whole day.

Elderflowers As Face Mask

Elderflowers work more effectively when they are combined with honey. This enhances its healing properties, which is one of the 5 beauty benefits of elderflowers. The combination of both the ingredients not only increase the blood flow of your skin but also heal it. To make a face pack of these ingredients, take 2 teaspoons honey, ½ tablespoon elderflowers, and 1 teaspoon turmeric powder. Combine all the ingredients properly to make a smooth paste. Now apply this natural face pack on your clean skin and leave for 20 minutes. Rinse it off with normal water and pat dry. Follow this procedure twice a week. This will make your skin amazingly soft and glowing.

Elderflowers As Body Spa

It is well-known that steaming is very beneficial for your skin but when you take it by adding elderflowers in your steam it becomes more effective. One of the 5 beauty benefits of elderflowers is that they contain natural antioxidants, which help in cleansing the skin. It has various antiviral properties which make them beneficial for preventing viral infections. Simply mix elderflowers and lavender to lukewarm water in your bathtub and take steam for 15 minutes. It draws out all the impurities from your skin and makes it healthy.

Elderflowers As A Facial Toner

Among the 5 beauty benefits of elderflowers, its action as an effective facial toner deserves special mention. For making this, take 2 tablespoons dried elderflowers and ¾ cup of hot water. Now place these elderflowers in a tea bag and dip it into the cup. Let it cool down naturally. Then mix the essential oils into this solution and store it in a sealed container. Use it every day. You can add 1 teaspoon whiskey to this facial toner in case of acne-prone skin.

Elderflowers As Hair Serum

While we are discussing the 5 beauty benefits of elderflowers, it is important to know that is it offers great benefits for your hair too. The oil of elderflowers is popular and it works wonderfully on your scalp. For maximum benefits, just mix an equal amount of elder oil and your other favorite hair oil. Massage it on your scalp and hair with your fingertips for about 15 minutes. Leave it overnight and the next morning wash your hair with any mild shampoo. This natural hair serum not only increases the blood circulation of your scalp but also promotes hair growth.

Now you are completely aware of the 5 beauty benefits of elderflowers and the most effective ways of using it. Try these amazing tips and enhance your beauty naturally.
Also Read: