There is no cure for progressive supranuclear palsy, but the treatment is often symptomatic and supportive.1
Although there is no effective treatment for PSP, yet medical experts are deep diving into research to look for better ways to manage the disease.2
Certain individuals in the initial stages of the disease may gain from using levodopa, amantadine, or other drugs used to treat Parkinson's syndrome.3, 4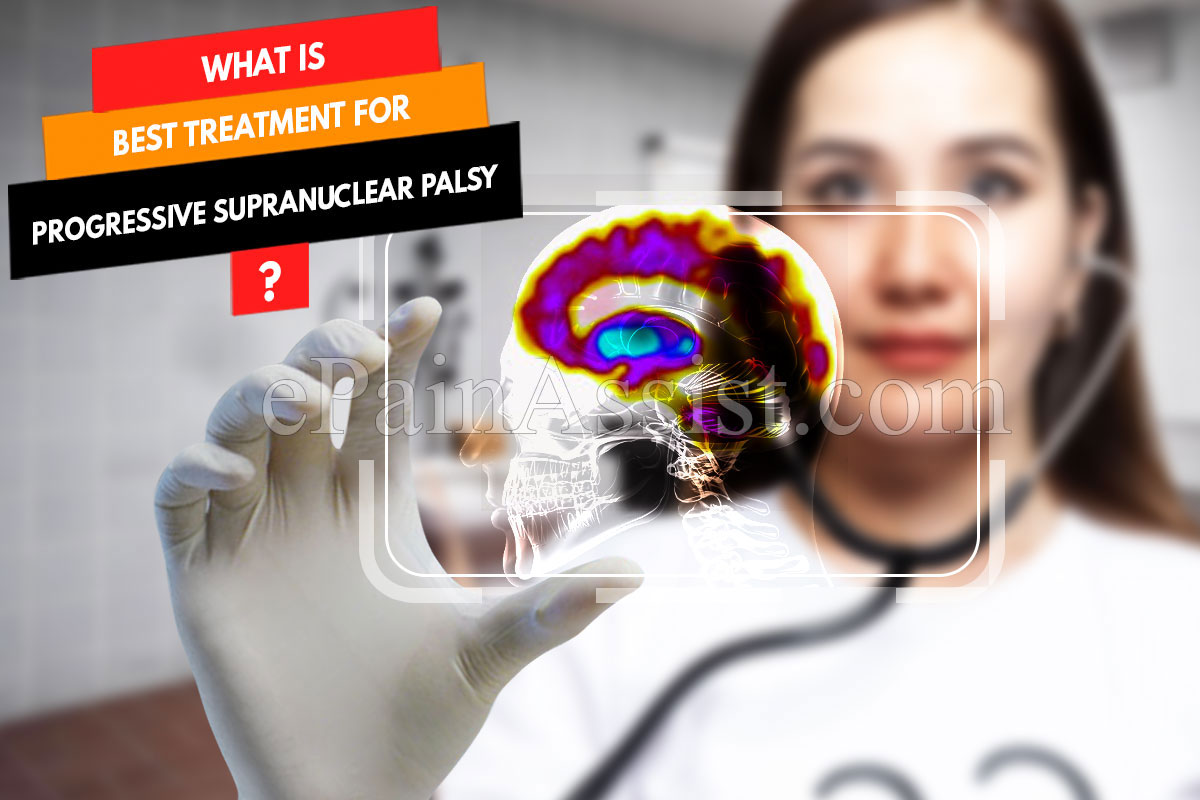 What Is The Best Treatment For Progressive Supranuclear Palsy?
There is no cure for progressive supranuclear palsy, and perhaps no treatment can slow down its progression. However, there are a plethora of ways with which you can effectively manage the symptoms.
Progressive supranuclear palsy is a rare neurological disease that affects many areas of the brain, eventually affecting several body functions. You will need a team of health and social care professionals often referred to as a multidisciplinary team that provides specific services to the patients.
Members Of The Team Include:
Psychiatrists trained in psychotherapy don't cure mental illness, they can often significantly improve symptoms
Clinical nurse/specialists offer immediate care to the patients
Occupational therapists can help with a variety of conditions when you lack the energy to do your daily activities such as washing or dressing
Speech and language therapists help with exercises and activities that vary depending on your disease progression
Ophthalmologist focuses on conditions caused by brain or systemic abnormalities and helps with their eye problems.1
Medication For Progressive Supranuclear Palsy
Although there are no effective treatments for progressive supranuclear palsy, yet medical experts are deep diving into research to look for better ways to manage the disease. There is no specific medication to treat the condition specifically however certain individuals in the initial stages of the disease may gain from using levodopa, amantadine, or other drugs used to treat Parkinson's syndrome.
They can improve your shakiness, stiffness in your muscle movements, and difficulties in walking. Medicines have side effects so seek immediate medical attention when you experience discomfort.2
Physiotherapy For Progressive Supranuclear Palsy
These are treatments often helpful in restoring and maintaining the person's mobility function through physical rehabilitation, health, and fitness. Proper physiotherapy with the right therapist can help reduce pain and avoid the necessity of surgery. Your therapist may suggest walking aids such as canes or specially designed shoes to ease your walking.
Speech And Language Therapy For Progressive Supranuclear Palsy
Progressive supranuclear palsy progression may result in slurred speech and difficulty in understanding, so the speech therapist improves voice quality and improve the intelligibility of speech through voice amplifying devices or aids.
Similarly, muscle weakness may make swallowing difficult so the therapist helps with the swallowing exercises which can improve the strength and mobility and help you swallow normally again.
Occupational Therapy For Progressive Supranuclear Palsy
Quality of life is diminished due to the progression of the condition with decreased life expectancy. Occupational therapists can provide you guidelines on how to increase your safety and preventive measures from falling and avoiding injuries. For instance, many patients with progressive supranuclear palsy have bars attached to the side of their bath so they can have a better balance to get in and get out.
Dealing With Your Eye Challenges
People with progressive supranuclear palsy have slowness in eye movements, they will have trouble in controlling the voluntary eye muscles that eventually intervene with your vision. When you encounter pain and problems with vision, your ophthalmologist may suggest Botox injection to relax your eye muscles that were blocked due to the deterioration of the neuron cells in the brain.
Palliative Care For Progressive Supranuclear Palsy
Since no curative and only limited life-prolonging treatment options are available, palliative care would require during any stage of PSP.3,4
Also Read: