Big breasts can be visually appealing for some, but physically painful for many to have. Besides, if the breasts are too large, it is not visually pleasing. Many women feel embarrassed for having large breasts and want to get rid of that. Though surgery is the first thing that would come to the mind, there are other ways as well that will make the size of your breasts smaller.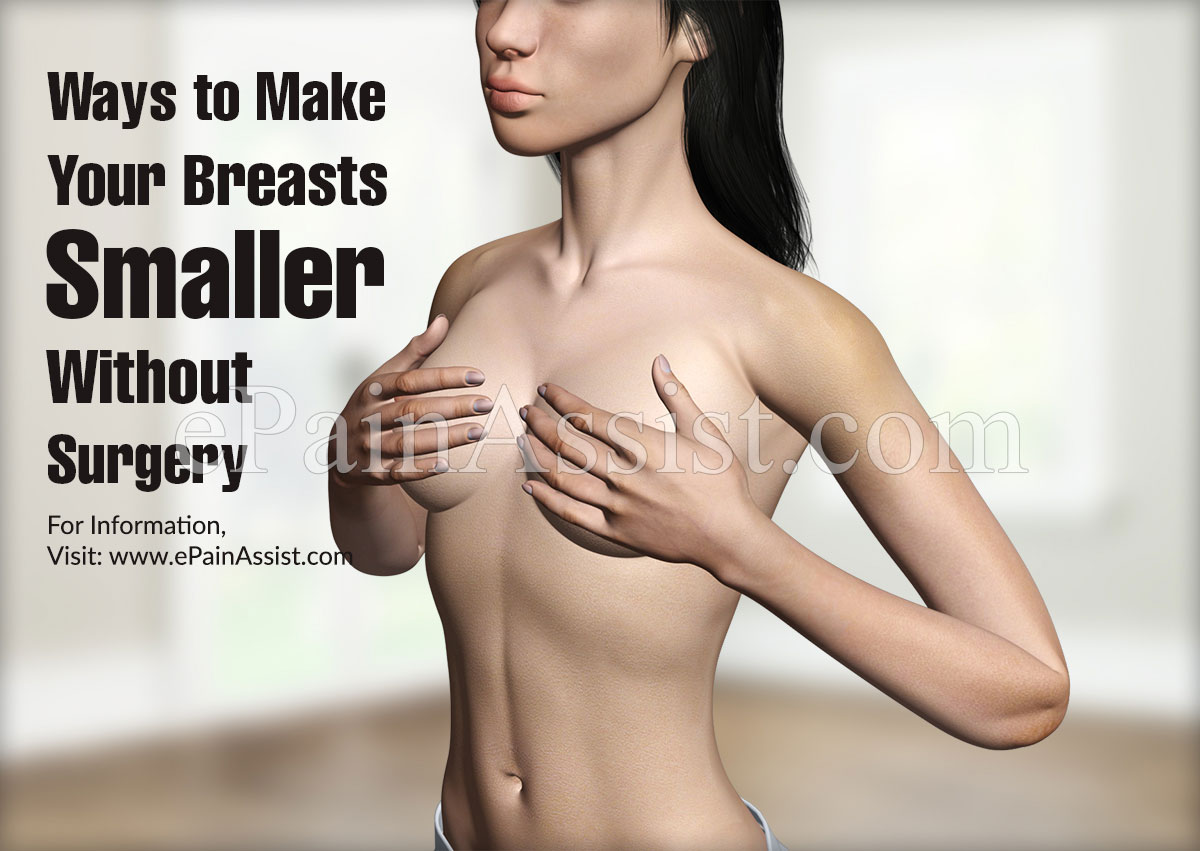 Can You Make Your Breasts Smaller Without Surgery?
There are a number of factors that contribute in the way your body is shaped. These would include –
How much you eat
The quality of food that you eat
Your physical activity
Your psychological condition.
All these factors play an important role in the size of your body muscles and also the amount of fat that is stored in your body and where it is stored. Alteration in these factors will have a prominent impact on your cosmetic appearance. So, you can make your breast size smaller by altering these factors, without undergoing a surgery.
The ways of making your breasts smaller without surgery include:
Diet Changes to Make Your Breasts Smaller Without Surgery:
What you eat, how you eat and when you eat, all have a deep impact on your body. You need to find out the right amount of calories that your body needs. Consuming more calories than you burn will end up in deposition of those calories in the form of fat in your body cells. Even the breasts are nothing but a lump of fat cells. So, if you eat fewer calories, the fat in your breasts will reduce and as a result, the size of your breasts will also decrease.
There are many online basal metabolic rate (BMR) calculators available. You can use one to calculate your BMR. Eat about 300 calories less than your BMR. This will certainly have an impact on your overall weight as well as reduce your breast size.
Exercise and Burn Calories:
Along with checking on your calorie consumption, you must also make sure that you shed some calories. This will help you to lose some weight and thereby reduce the size of your breasts. The more you burn fat, the more you will see the change in the size of your breasts. The most useful way to burn calories is doing cardiovascular exercises such as running or cycling. If you run for about 60 to 90 minutes every day or at least for 5 days a week, your breast size will reduce along with your body weight.
Stop Breastfeeding When Recommended To Make Your Breasts Smaller:
Breastfeeding increases the size of breasts hugely. So, if you are breastfeeding your child, stop the practice as soon as the child is weaning. This will help you to prevent the breasts from further enlargement.
Increase Muscle Mass:
If you increase the metabolism of your body, it will be difficult for the body to store fat in the breast. So, start to increase your muscle mass and strengthen your muscles. For that you can lift weight for an hour, thrice a week. Also, do some other exercises that contribute in muscle strengthening and in increasing your metabolism. These would include –
Shoulder presses
Bench presses
Squats
Seated rows
Triceps extensions
Hamstring curls
Biceps curls.
Along with these, you can also go for some other ways that will make your breasts appear to be smaller. Not that the size of your breasts will reduce in reality with these ways, but at least they would not look as large as they really are.
You can try wearing minimizer bras or sports bras. They are tight enough to make the breasts look smaller. Also, you can try the breast reduction creams and lotions. Though they claim to reduce the size of your breasts, they actually only tone and tighten the breasts. This gives the breasts a youthful look, but the cup size of your breasts remains the same.
Also Read: