"Hair loss is a God's way of telling me I am a Human" Bruce Wills comes up with this saying which must be an inspiration to all those who are meeting with hair loss. Still, there will be people who would love to know about extra therapies, some additional ways of treating hair loss which can actually benefit them in treating the excessive loss of hair or even re-growing the lost hair. Apart from the prescribed medicines, medicated oils etc there are some ways people believe to be beneficial in the treatment of hair loss. One such technique being the method of rubbing nails which can treat hair loss. Let us know more about this technique in detail along with the science behind the procedure. So the current article will be dealing with the process of rubbing nails in treating hair loss and its effectiveness.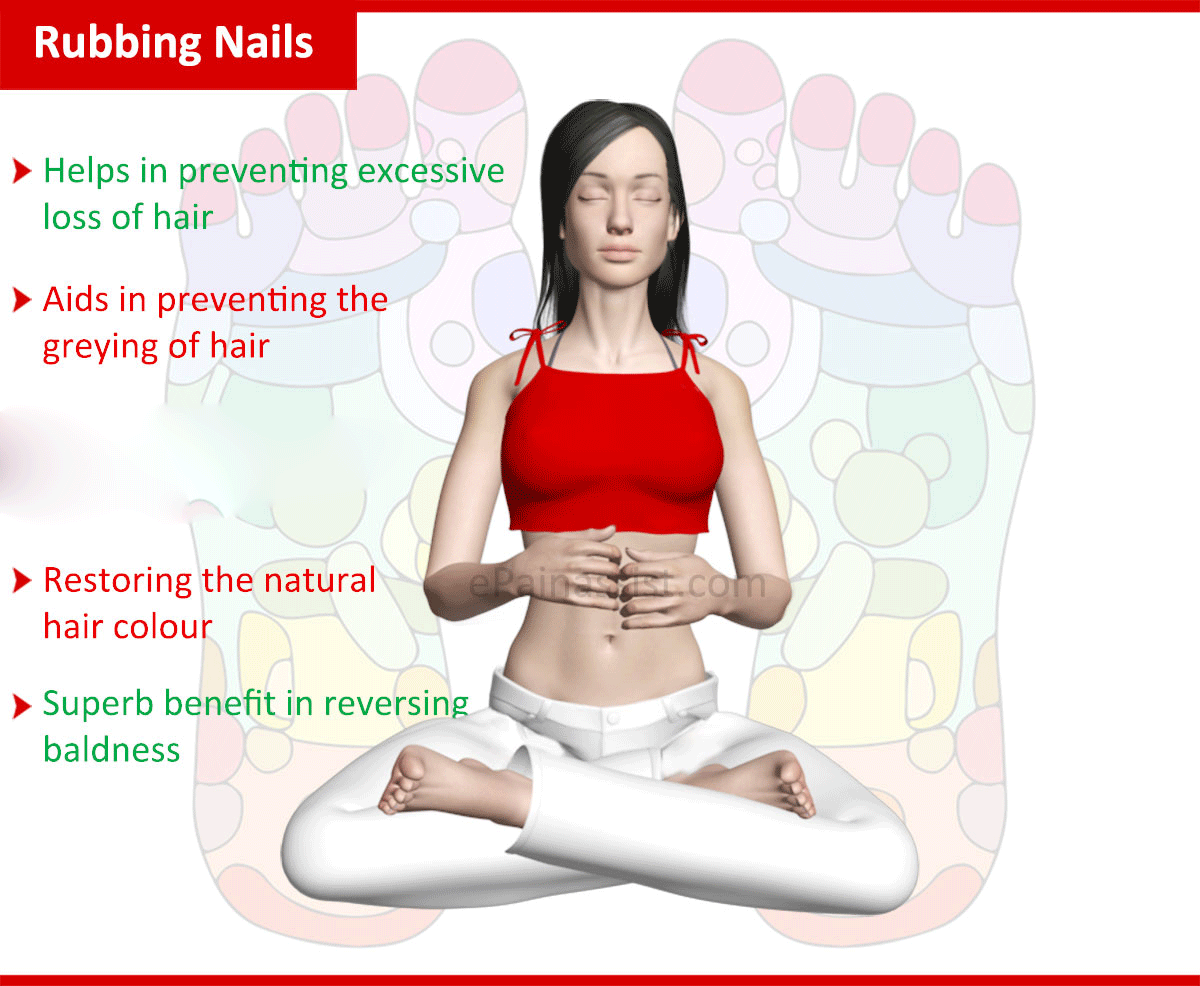 Know About The Procedure Of Rubbing Nails:
Before we talk about the benefits we get to the hair through the technique of rubbing nails; let us know about the procedure to follow. Below are the steps mentioned in a simple way.
The technique of Rubbing nails can be done 2-3 times a day, and you can continue the procedure for about 5-10 minutes every single time you do it.
Gently fold both your palms inwards and get them closer to each other.
Let both the hands' fingernails touch each other for effective rubbing of the nails.
Now making swift movements, rub the fingernails to each other for at least 5 to 10 minutes.
Repeat the same procedure at least twice a day.
Various Ways Rubbing Nails Can Be A Beneficial Technique For Hair Loss
Helps in preventing excessive loss of hair
Aids in preventing the greying of hair
Rubbing nails help is restoring the natural hair color
It is known to have a superb benefit in reversing baldness
Though it might take enough time (around 8-12 months), but Rubbing nails can also help in restoring the lost hair gradually.
Real Science Behind Rubbing Nails For Hair Loss Treatment: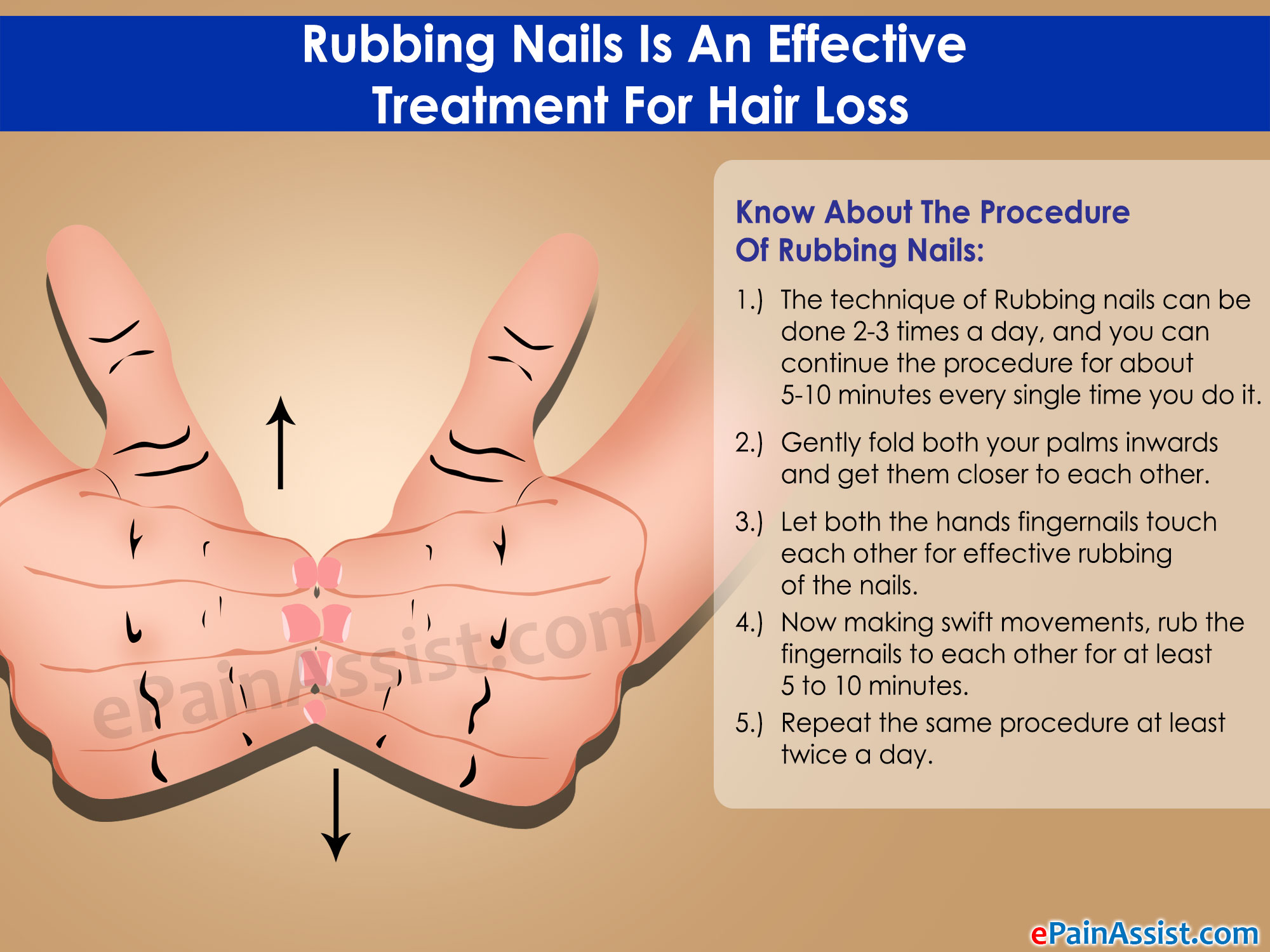 The Theory Of Adult Stem Cells And The Benefits Of Rubbing Nails For Hair Loss Treatment:

The undifferentiated cells found in multi-cellular organism and having the potential to differentiate into any other cell type and also with the property that helps them produce their identical copies for indefinite number of times; are known as stem cells present in the body. Stem cells are beneficial in damage and repair of various cells, tissues and organs. There are primarily three major types of stem cells including Embryonic stem cells, Adult stem cells and Umbilical cord blood stem cells.
Adult stem cells are those stem cells found all throughout the body after their embryonic development. These adult stem cells have a unique property of healing by their own.
Whenever there is a wound or a damage to any tissue or cell, the adult stem cells are activated for producing new cells for healing that regenerates the damaged tissues and revitalizes the affected organ.
Brain, Spinal Cord, Peripheral blood, Bone Marrow, Retina, skeletal muscles, dental pulp, skin, Pancreas, digestive system, cornea etc are some of the organs which comprises a surplus number of adult stem cells in them.
There are also the adult stem cells present in the bulge of the hair follicle. These adult stem cells help in hair growth
By rubbing fingernails one can stimulate the brain to transmit chemical signals to the adult stem cells to reach the site of damaged hair follicles and produce new hair follicles and revitalize the damaged hair follicles.
Because of the property of self-renewal, adult stem cells can easily repair the damaged hair follicles and generate the new hair follicles at the damaged site of the scalp.
Thus adult stem cell theory explains rubbing nails can benefit in treating hair loss and help in re-growing the lost hair.

Rubbing Nails For Treating Hair Loss And Its Science In Reflexology:

Applying pressure to certain parts, certain sites or areas of the body to heal various conditions is what happens in Reflexogy. Mostly some sires in feet, hand, ear etc are used in reflexology where pressure is applied and that has a real beneficial effect on the health.
Reflexology also believes that rubbing nails can help in treating hair loss effectively.
The nerve ending lying just under the fingernails are directly connected to the hair follicles present in the scalp.
By rubbing your fingernails you can stimulate the blood circulation in your scalp.
This activated blood flow to the scalp helps in strengthening the follicles of the hair and thus prevent hair fall.
Safety Precautions To Be Maintained With The Technique Of Rubbing Nails For Treating Hair Loss:
"Safety is the Key. It is up to you and me" Truer words were never spoken. Safety and preventive measures are highly essential, especially when health and life is concerned. Here below are some of the safety precautions listed which every person practicing the technique of rubbing nails for treating hair loss. Do check the list below and try to keep them in mind while rubbing nails.
Make sure you are not rubbing the thumbnails. It would accelerate the growth of moustaches, beard and also will generate hair that starts peeping out from the ears.
In case you are dealing with any kind of surgical conditions like in appendicitis, angiography etc, please avoid rubbing nails.
Rubbing nails during maternity phase is prohibited. Doing this can elevate your blood pressure and uterine contraction.
If you have a history of hypertension, keep away from nail rubbing which can elevate the condition.
Make sure you are not rubbing with enough force or not doing in vigorously as it can damage your nails
Do not rub fingernails which are diseased or infected fingernails
Please keep a note not to rub your nails more than 10 minutes and not more than 3 times at max.
Guide your hair follicles in the right way and look them growing you beautiful!
Also Read: