Tabata training is a high intensity workout that is not only intense but also exigent. Tabata workouts can help you build tough muscles, improve flexibility, increase strength and lose weight. While there are various styles and Tabata exercises that can be performed, the interval training based on time is most important.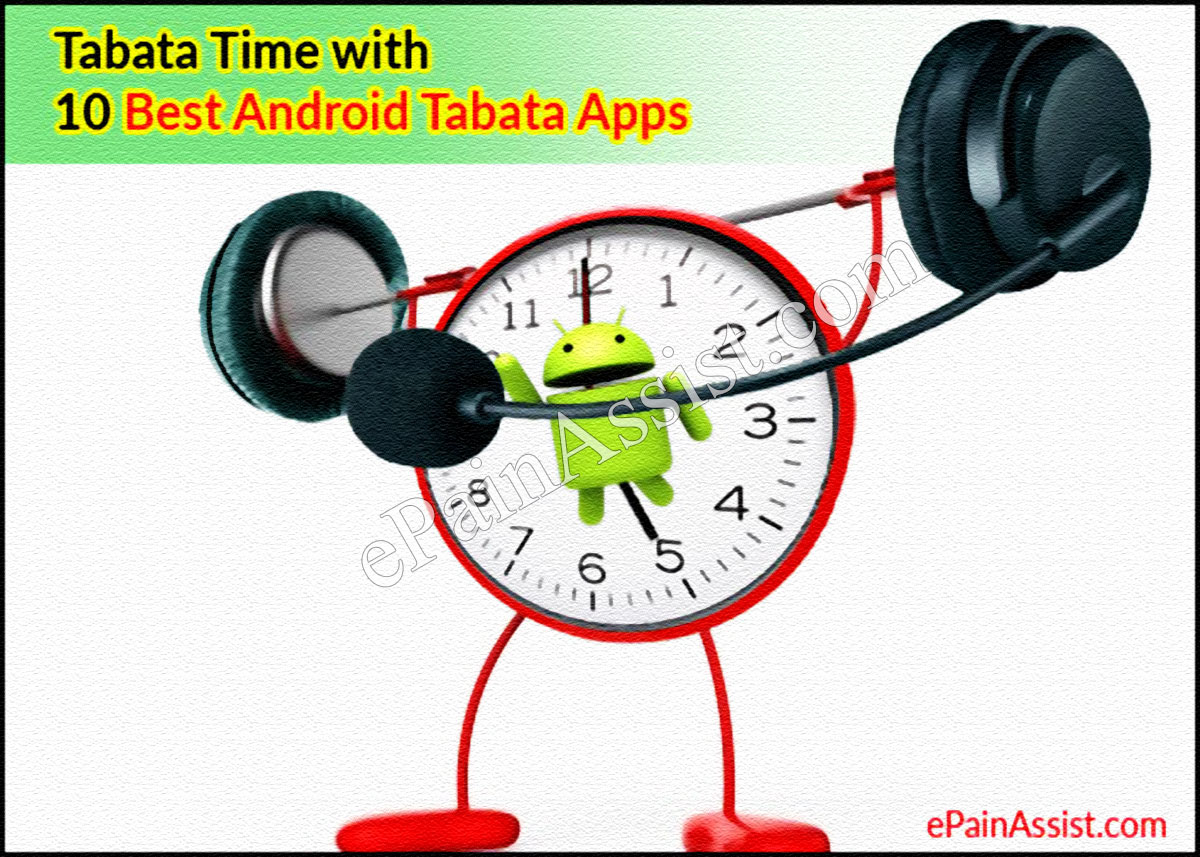 How about having Tabata time with a Tabata Timer? With the increasing use of high-end devices, use of Tabata apps is a great option to keep you motivated with the intense Tabata Protocol.
Here are some of the Tabata Apps that you can use to make your Tabata Training more interesting and challenging than ever.
Tabata Timer for HIIT

This is one of the best apps for Android phones. It is very easy to use and can make a perfect go for your high intensity interval training. This app allows you to configure your own duration for preparation, workout period and rest period. It enables you to record weight, body mass index (BMI), your history of Tabata workout and helps to track your performance. It makes your Tabata training more interesting with multiple color display and background music that you can customize. Ratings – 4.7 Stars Price – Free

Tabata Timer with Music

This Tabata timer comes with music for your Tabata Training. As Tabata workouts, which are high intensity interval exercises, are considered as a great way to lose weight, using this timer can make your Tabata training as well as weight loss program very exciting. The music based app can encourage you and make your Tabata workouts more enjoyable. Additionally, you can have customization of your settings, Tabata exercises, cycles and rest period by upgrading your app. Ratings – 4.6 Stars Price – Free

Tabata Pro – Tabata Timer

This app offers a wide range of features that can make your Tabata Protocol and interval training a wonderful experience. You can customize your entire Tabata experience with this app; settings, timings, rest periods, workout cycles and Tabata intervals. While you can stop in between with a pause and resume session later, the alerts and flashing visual indications help to keep you on track. The speaking coach, advanced multiple Tabatas and background multitasking all makes it a great Tabata Method app. Ratings – 4.6 Stars Price – US$ 3.99

My Tabata Timer

This app is very simple to use with all basic requirements you need for refreshing Tabata Intervals. It is a Tabata timer that helps you to keep a track of your workouts with screen displays. You can set your time, Tabata cycles, rest periods and change colors to make it more appealing. The app gives sounds that indicate the completion of one set and you can see the remaining sets with indications on the screen. Rating – 4.4 Stars Price – Free

HardFoxTM Tabata

This app can help you through your toughest trainings, like the Tabata training. Use this app as a personal trainer and make the best out of your Tabata protocol. The use of this app is simple and navigation is easy. You can check your performance with full statistics and undertake challenges too. Rating – 4.2 Stars Price – Free

Tabata Sport Interval Timer

This Tabata Timer is a simple and ready to use timer that can make your Tabata workouts run in a perfect manner. Getting fit and burning calories can be faster with this Tabata cardio training app. It has a default timer set along with intervals of workout and rest periods. You can set your own workout time to follow your Tabata Method and it is best suited for any exercise. Rating – 4.2 Stars Price – Free

Workout HIIT (Tabata Timer)

You can use this android app just perfectly for your HIIT and Tabata training, with sessions customized according to your needs. It offers start and pause options, sound alerts and helps to read the names of exercises to guide you throughout your workout. You can specify your exercises, Tabata intervals, workout and rest periods. Rating – 4.1 StarsPrice – Free

HIIT Workouts and Tabata Timer

This app can be your perfect guide and help you to remain fit. This Tabata timer offers predefined workouts for your Tabata training. These are available as Tabata for beginners, Tabata for the legs and Tabata for your upper body. The workout settings are also available for cardio workouts and challenges with specific exercises. You can adjust your own settings and design your own Tabata method by choosing from the given options. Rating – 4.0 Stars Price – Free

Tabata Live Tutorial

This app is an excellent guide that can help you to start through your Tabata workout from the very initial beginner level to further advanced stages. It offers a live tutorial to help you perform Tabata exercises of the cardio training range as well as those for toning the lower body. Some of the activities included are jumping lunges, knee push-ups, mountain climbers and scissor crunches. Rating – 3.9 Stars Price – Free

Tabata Exercise Interval Timer

This Tabata exercise app gives you a lot more than just exercises; it's a timer you can use for Tabata workouts, boxing and even meditation. You can create your own presets and enjoy your Tabata intervals in your preferred way. Rating – 3.7 Stars
Price – Free
Also Read:
×
Suggestions to Improve the Article
This article contains incorrect information.
This article does not have the information I am looking for.
I Have a Medical Question.

×
How Did This Article Help?
This Article Did Change My Life!
I Have a Medical Question.