Laser body sculpting is a popular procedure used by people to get into the shape they have always desired. If you are thinking of going for laser body sculpting, it is important for you to know about the laser body sculpting procedure, its cost and whether the technique works. It is important that you have a basic understanding about this procedure and seek medical advice based on your health needs.
Getting a toned and well-structured body with an attractive look is undoubtedly one of the most common desires that several men and women have. However, even with a proper exercise regime and diet plan, you fail to achieve the shape and form you desire or are unable to maintain it.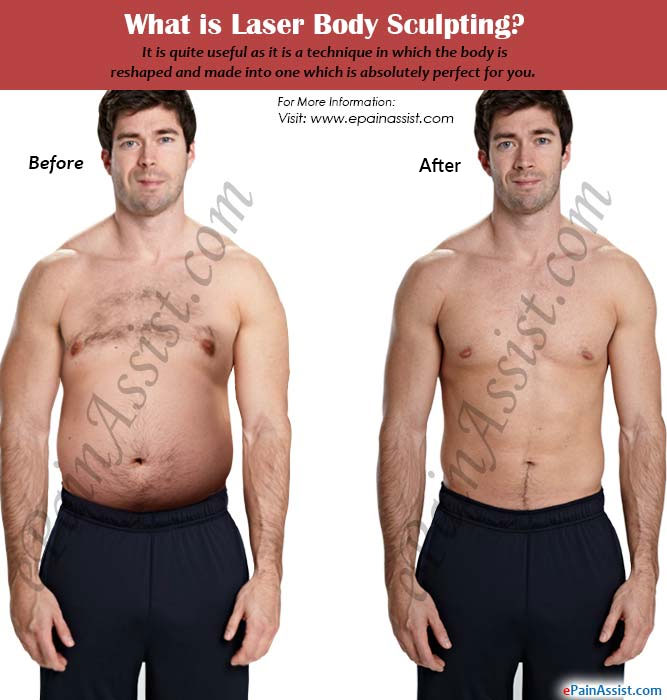 What is Laser Body Sculpting?
Laser body sculpting is quite useful as it is a technique in which the body is reshaped and made into one which is absolutely perfect for you. This technique involves a process wherein those pockets of fat, which do not respond to a strict diet plan and exercises, are eliminated. Different kinds of laser techniques and surgical techniques together form the laser body sculpting procedure. It is important to know your health conditions, requirements and plan the best laser sculpting technique with the help of an expert.
Why is Laser Body Sculpting Popular?
Being one of the most advanced techniques which helps to eliminate fat cells by liquefying them, laser body sculpting is gaining immense popularity all over the world. Moreover, with very few complications being associated with it, it is a type of non-invasive surgery which is preferred over other types of body sculpting such as liposuction. There are very few side effects associated with laser body sculpting procedure. The recovery period in laser body sculpting is also lesser than that in liposuction.
How is Laser Body Sculpting Procedure Done & What is the Recovery Period?
Laser body sculpting procedure is an effective one which helps to remodel some of the smallest parts of the body like the chin, arms or the neck. This is an added advantage that laser body sculpting offers which is not the case in liposuction or other techniques which help treat physical imperfections.
Most laser body sculpting procedures make use of VASER which is the most popular technique. It is ideal for slightly obese individuals who need to eliminate fat deposits from certain parts of their body as per their unique needs and requirements. The VASER technique works like a de-bulker where fat is gradually eliminated from the bulky parts of the body while the body is sculpted to perfection bit by bit. VASER is also quite effective in liquefying excess fat cells and eliminating them completely but in some cases, the surgeon may also use surgical intervention, as appropriate, to give the patient a perfectly fit and desirable body.
The recovery is quite fast after laser body sculpting procedure. Once the laser body sculpting is complete, most patients can resume their normal lifestyle within just 24 to 48 hours of the procedures while some patients might take 3 to 4 days for completely recovery.
Laser Body Sculpting Cost
The cost of laser body sculpting varies from one person to another as it relies on several factors. The size of the fat pocket along with the extent of the target area together decides the total laser body sculpting cost. Also, the number of sites that need to be sculpted determine the cost of laser body sculpting procedure as more the number of sites, more is the cost involved in such procedures. Other factors which contribute to the laser body sculpting procedure cost are the experience and expertise of the surgeon who perform the procedure and the level of technology being used for it.
However, on an average a single session of laser body sculpting costs anywhere in between $2600 to $6000. You may need a single session or several such sessions, depending on individual requirements.
Effectiveness of Laser Body Sculpting
Laser body sculpting is a procedure which offers instant positive results which are felt by the patient almost immediately. Large deposits of fat are removed during the procedure which makes the patient feel fitter, lighter and healthier. The actual results of the procedure, however, take around 6 to 8 weeks to be visible to the patient and to the people around.
Recent statistics reveal that almost 70% people opt for laser body sculpting procedure while only 20% still go for the traditional liposuction technique, to eliminate the extra fat and get into shape. This proves that laser body sculpting works and is the most preferred choice of several patients around the globe.
The laser body sculpting technique works best for those individuals who have not got the results they thought they would even after months and years of rigorous dieting and exercise. However, people who are extremely obese and overweight may not be able to get desired results from body sculpting as very large deposits of fat cannot be removed with this technique. This technique works best for only those people who are otherwise in good health but need to eliminate fat in small quantities and that too from a specific part of the body. Liposuction or a surgical correction technique is best for people who are extremely overweight and need to eliminate a large amount of fat from their body.
If you are planning to get a laser body sculpting procedure, it is advisable to first consult a reputed and experienced plastic surgeon. It is important to evaluate your general health conditions, understand your unique requirement and accordingly plan the type of laser body sculpting procedure that you should opt for. It is also necessary to discuss the cost involved in the procedure beforehand as it may vary based on your requirements and you need to be ready with the amount.
Also Read: