While we give so much importance to our face, hands and rest of the body, our feet are usually taken for granted and they deserve all the care for bearing so much of our weight on a routine basis. Feet are responsible for carrying our body weight and therefore anything that goes wrong with them must be taken care of at the earliest. Burning sensation in feet is one such condition that is often overlooked to be common. While the cause of burning sensation in feet might be nothing major, yet it is important to be aware of some of the home remedies that can be used to get relief from burning sensation in feet.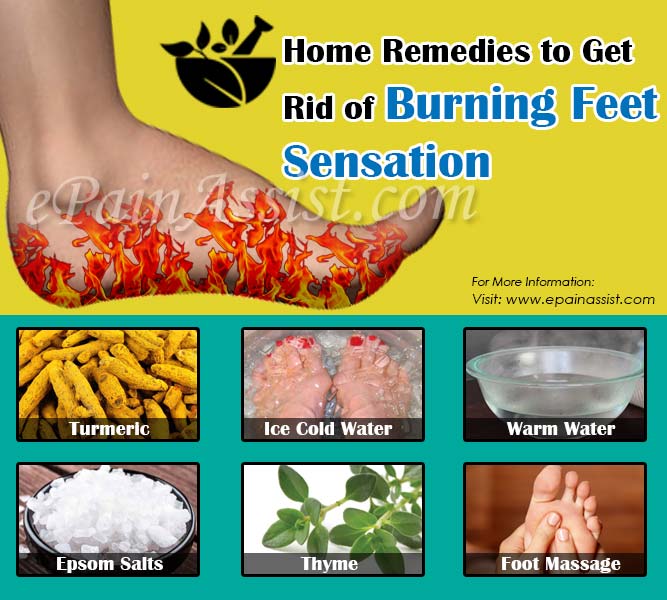 Home Remedies to Get Rid of Burning Feet Sensation
Burning sensation in feet can be irritating and painful at the same time, especially if it's severe enough to keep you off you feet for a long period of time. Based on what is leading to burning feet sensation, there are some Home Remedies that can help to provide relief and these are:
The Magic of Turmeric for Relieving Burning Feet Sensation
Being the greatest antiseptic agent used in home remedies, turmeric is also beneficial to provide relief from burning sensation of feet. It can either be applied directly in the form of paste over the affected area or consumed orally with milk or water. Turmeric will help to improve blood circulation thereby helping to reduce inflammation and control the burning sensation in feet.
Ice Cold Water Can help Get Rid of Burning Feet Sensation
The simplest way to get some temporary relief from burning feet naturally would be soaking them in ice-cold water. This will work in scenarios when the burning sensation is due to overuse, fatigue or trauma of the feet. However, make sure you avoid using cold water in case of erythromelalgia (a condition characterised by hot extremities) as that would elevate the pain more instead of doing any good.
Warm Water
Warm water can also be used for soaking in your feet to get rid of burning sensation in feet. Warm water channelizes blood flow and relieves muscles from stress allowing them to heal up quickly. Warm water would definitely be beneficial home remedy in cases where circulatory issues overuse or trauma is the cause for burning feet sensation.
Using Epsom Salts
Use of Epsom salts for back and body massage is common, as it is known to provide relief from general aches and stiffness. Hence, using them for your feet could be a good way to heal from burning sensation in your feet. Take some lukewarm water in a tub and put about half-cup of Epsom salt into it. Put in your feet into it for 15 minutes for this home remedy to work for getting rid of burning sensation in feet.
Healing with Thyme
Thyme is a popular herb used in Italian and continental dishes, and is also beneficial home remedy for providing relief from burning sensation in feet. It will loosen up constricted vessels thus improving flow of blood and circulation over the affected area. In order to use thyme, fill up two large sized bowls one with hot water and the other with cold water, now divide the soaked thyme and put in both bowls in equal amounts. Start with putting your feet in hot water for 5 minutes, then switch to cold water for another 5 minutes. Repeat the cycle for 20 minutes approx. to relief from burning sensation in feet.
Supplementing with Vitamin B3
Vitamin B3 has a great role in improving blood circulation and boosting nerve strength, both of which can be factors to provide relief from burning feet sensation. Using vitamin B3 as a home remedy can involve supplementing your diet with more of wheat grain, vegetables, peas, yogurt, milk and egg yolks.
Foot Massage-An Effective Home Remedy to Get Rid of Burning Feet Sensation
Routine foot massage for 15-20 minutes a day could be beneficial in relieving tension from joints and providing relief from fatigue after long hours of tiring work. This will also provide relief from burning sensation in feet allowing them to heal quickly. You can use essential oils for foot massage, as that would improve foot contour while providing relief from pain and discomfort.
Conclusion
So, you need not be always worried about that annoying burning sensation in feet, as there are some simple home remedies which you can undertake them all by yourself to find relief from burning feet sensation.
Also Read: