With a lot of increasing health awareness all around, the latest approach is to remain fit, healthy and smart. You too, must be surely working out ways to keep yourself in shape and maintain your health at the same time. Being health conscious is the need of the hour and smart use of available resources is an art. Most of your health and fitness concerns revolve around your diet and nutrition.
While in today's world, smart phones are used for almost everything, they can also be your lead when it comes to maintaining your diet and nutrition. There are a host of nutrition apps, diet trackers, calories counters and many such food apps that you can use for your benefit.
Most of these food apps can be easily downloaded and applied to your health regime. There are various categories based on their use that range from being nutrition guide to exploring healthy recipe ideas. You can look out for the ones that you need the most and use them.
Here are some of the ways in which foods apps can be made to work for your better nutrition, health and fitness.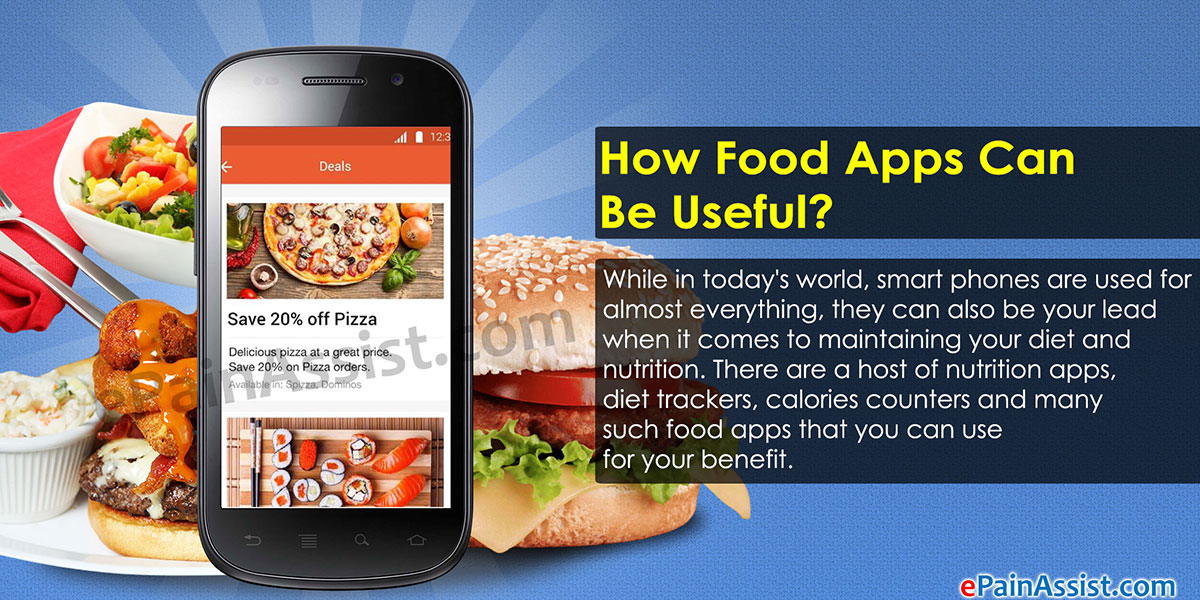 Smart Shopping:
There are food apps specifically designed to aid you in your shopping venture. You can use such apps as a guide when shopping and smartly choose the best healthy foods for your family. These apps allow you to create and maintain you own shopping list and even list of grocery items and ingredients based on specific recipes.
Some food stores have specific products, the nutritional values and calorie counts of which you can find registered in food apps. You can easily scan through the readymade products to check with their contents and compare it with your requirements. In case you want to know minute details of some products, to check for ingredients you may be allergic to, these foods apps can be used at once. Some apps also provide information on promotional offers arranged by food stores along with their nutritional information, so that you choose the best.
Healthy Eating:
You may have planned a weight loss diet or may be simply maintaining your health; foods apps are the best for all. Using the foods apps, you can determine your calorie requirement, plan a healthy diet routine and keep a track of all foods that you prepare and eat. With a record of your daily diet and the nutritional details of your food, you can keep a track of your healthy regimen progress and make the necessary changes, if required.
Most food apps offer a list of foods along with their nutritional values. So you can choose the best way to have your favorite foods, while meeting your calorie requirement. For those who love to cook and enjoy trying out new recipes, food apps can be a great cooking expert. Some apps also allow viewing videos or seeking advice from cooking expert on healthy ways of cooking and related stuff.
Exploring Recipes:
When it comes to finding new or healthy recipes, food apps are a great resource. Most of the food apps have a host of delicacies that you normally enjoy; use the food apps to find the secret behind these recipes. The apps make use of calorie counters and you can select the recipes based on your calorie requirements. Some apps are very user-friendly and also offer recipes with the ingredients you already have, so cooking does not become a big thing anymore.
You can find recipes for breakfast, lunch, snacks, dinner, lunch box, etc. You can make your parties even more exciting with healthy recipes for various occasions. There are also options where you can choose specific preparations like juices, milkshakes, salads, soups, healthy starters, sugar free desserts, kid's favorite snacks, etc.
Restaurant Eating:
Gone are the days, when you used to feel guilty about eating outside. With the foods apps in your smart phones, you can smartly eat outside. When you are out for restaurant eating; keep your food apps at hand. Using the food apps, you can choose the food wisely, based on your health regimen goal and nutritional requirements.
Many restaurants also have their restaurant menus on some apps; if possible check out for those to find information about the calories and other nutritional facts. Some food apps specifically designed for eat-outs also offer healthy options that you can easily order without compromising on your health.
Some Examples Of Most Popular Food Apps Include:
Fooducate- This food app guides you with shopping and offers detailed nutritional information about various products on the rack. Just like a personal nutritional expert, it gives suggestions and also tracks your progress.
Whole Foods Market Recipes- This app aims at making your diet planning, shopping and healthy cooking even easier. It also has a range of diets based on cuisines, various diets and even special diets.
Allergy Food Translator- This app is best if you have food allergies and wish to convey this information in other languages. So when you go out to places and restaurants where other languages are used, your app will speak for you in their local language.
Also Read: